Central Fuel Injection (CFI) unit - removal and refitting
Note: Refer to the precautions at the end of Section 1 before proceeding.
Removal
1 Disconnect the battery negative lead.
2 Remove the air cleaner assembly.
3 Depressurise the fuel system as described in Section 6, and disconnect the fuel inlet pipe from the CFI unit.
4 Disconnect the fuel return pipe from the CFI unit.
5 Disconnect the throttle cable from the linkage on the CFI unit.
6 Either drain the cooling system as described in Chapter 1, or clamp the coolant hoses as close as possible to the CFI unit to minimise coolant loss, then disconnect the hoses from the unit.
7 Disconnect the air charge temperature sensor, throttle position sensor, and throttle valve control motor wiring plugs.
8 Disconnect the vacuum pipe from the CFI unit.
9 Unscrew the four securing bolts, and lift the CFI unit from the inlet manifold (see illustration).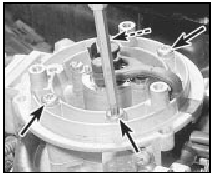 8.9 Unscrewing the CFI unit securing bolts (arrowed)
Refitting 10 Refitting is a reversal of removal, but on completion, refill or top-up the cooling system (as applicable) as described in Chapter 1, and check for fuel leaks with the engine running.
See also:
Water pump - removal and refitting
OHV engines Note: A new gasket and suitable jointing compound must be used on refitting. Removal 1 Drain the cooling system as described in Chapter 1. 2 Slacken the three water pump pulley reta ...
Camshaft and cam followers - removal, inspection and refitting
Note: A new camshaft oil seal and new rocker arm securing nuts should be used when refitting. 1.8 litre (R2A type) Removal 1 Remove the cylinder head. 2 Unscrew the securing bolts and remove the ...
Bulbs (exterior lamps) - renewal
Headlamp 1 From within the engine compartment pull the multi-plug from the rear of the headlamp. 2 Remove the rubber gaiter and rotate the bulb securing clip or release the spring clip arms accor ...