Rocker gear - dismantling and reassembly
Dismantling 1 With the rocker assembly removed as described in Section 4, extract the split pin from one end of the rocker shaft (see illustration).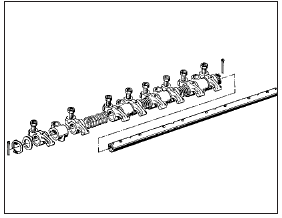 6.1 Rocker shaft assembly components
2 Take off the spring and plain washers from the end of the shaft.
3 Slide off the rocker arms, support pedestals and coil springs, keeping them in their originally fitted order. Clean out the oil holes in the shaft.
Reassembly
4 Apply engine oil to the rocker shaft before reassembling and make sure that the flat on the end of the shaft is to the same side as the rocker arm adjuster screws. This is essential for proper lubrication of the components.
See also:
Fuel injectors and injector delivery pipes - removal and refitting
Note: Refer to the precautions at the end of Section 1 before proceeding. It is important to note that each injection supply pipe connection in the distributor head has a screw adjacent to it. The ...
Tailgate - removal and refitting
Removal 1 Remove the trim panel (Section 32). 2 Disconnect the wiring from the heated rear window element, radio aerial, wiper motor tailgate speakers and tailgate lock motor as applicable (see i ...
Rear disc splash shield - removal and refitting
Note: A suitable puller will be required to remove the drive flange, and a new rear hub nut must be used on reassembly. Caution: Refer to the precautions in Section 1. Removal 1 Loosen the rear ...