Fuel pump - cleaning
Note: Refer to the warning at the end of Section 1 before proceeding.
1 On certain early models the fuel pump has a detachable cover allowing access to the internal filter for cleaning. If this type of pump is fitted (identified by a raised cover secured with a screw) the filter can be cleaned as follows.
2 Place a piece of rag around the pump body to catch the fuel which will drain out when the cover is removed.
3 Unscrew and remove the single cover screw and lift off the cover (see illustration).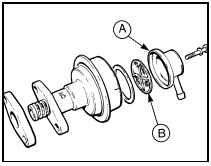 4.3 CVH engine fuel pump filter components
A Pump cover B Filter
4 Take out the rubber sealing ring and the filter screen from inside the cover.
5 Clean the screen by brushing it in clean fuel, then fit it into the cover, noting the projections on some screens which centralise it.
6 Fit the sealing ring. If it is not in good order, renew it.
7 Locate the cover on the pump body. On some pumps, the cover is correctly installed when the notch in the cover engages in the groove in the pump body.
8 Screw in the retaining screw, but do not overtighten it provided it is making a good seal.
See also:
Dissimilar spare tire/wheel information
WARNING: Failure to follow these guidelines could result in an increased risk of loss of vehicle control, injury or death. If you have a dissimilar spare tire/wheel, then it is intended for tempor ...
Telephone setup
Phonebook Note: It may be necessary to confirm phonebook access to the Bluetooth system via the mobile phone. After start up access to the phonebook list can be delayed for several minutes, depe ...
Spark plugs and HT leads - removal, inspection and refitting
Note: The correct functioning of the spark plugs is vital for the correct running and efficiency of the engine. It is essential that the plugs fitted are appropriate for the engine, and the suitabl ...