Fuel pump - cleaning
Note: Refer to the warning at the end of Section 1 before proceeding.
1 On certain early models the fuel pump has a detachable cover allowing access to the internal filter for cleaning. If this type of pump is fitted (identified by a raised cover secured with a screw) the filter can be cleaned as follows.
2 Place a piece of rag around the pump body to catch the fuel which will drain out when the cover is removed.
3 Unscrew and remove the single cover screw and lift off the cover (see illustration).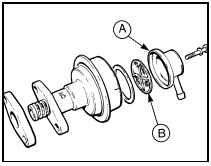 4.3 CVH engine fuel pump filter components
A Pump cover B Filter
4 Take out the rubber sealing ring and the filter screen from inside the cover.
5 Clean the screen by brushing it in clean fuel, then fit it into the cover, noting the projections on some screens which centralise it.
6 Fit the sealing ring. If it is not in good order, renew it.
7 Locate the cover on the pump body. On some pumps, the cover is correctly installed when the notch in the cover engages in the groove in the pump body.
8 Screw in the retaining screw, but do not overtighten it provided it is making a good seal.
See also:
Seat belts - removal and refitting
Front seat belt stalk 1 Remove the front seat. 2 Detach the seat belt stalk from the seat by removing the two Torx screws. 3 Refitting is a reversal of removal. Front seat belt assembly 4 Where ...
Interior lamp bulbs - renewal
1 Disconnect the battery negative lead. Courtesy lamp 2 Remove the courtesy lamp. 3 Unclip the bulb from the lamp. On models fitted with an overhead console and map reading lamps, the courtesy la ...
Fuel pressure regulator - removal and refitting
Removal 1 Remove the CFI unit as described in Section 8. 2 Remove the four screws securing the regulator housing to the CFI unit, then carefully lift off the housing and recover the ball, cup, la ...