Ford Escort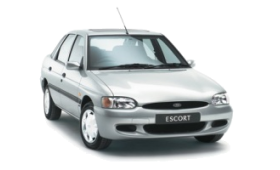 The Ford Escort was a small family car manufactured by the Ford Motor Company from 1967 to 2003.
See also:
Steering column - removal, overhaul and refitting
Removal 1 Disconnect the battery negative terminal. 2 Turn the ignition key and rotate the steering wheel to bring the front roadwheels to the straight-ahead position. 3 Working within the engine ...
Handbrake cable - adjustment
Note: Where fitted, the adjuster locking pin must be renewed on completion of adjustment. Conventional braking system (except P100 models) 1 The handbrake cable is normally self-adjusting in use ...
Handbrake cable - removal and refitting
Removal 1 Chock the front wheels, loosen the rear roadwheel nuts, then jack up the rear of the vehicle and support on axle stands. Release the handbrake and remove the roadwheels. 2 Slacken the h ...