Pressure regulating valve (Saloon and Estate models) - removal and refitting
1 The brake pressure regulating valve is located within the engine compartment, just above the aperture in the wing inner panel through which the steering tie-rod passes. On pre-1986 models the valves comprise a metal housing bolted to the inner panel. On later models the valves, one for each brake circuit, are individually located in a bracket attached to the inner panel (see illustrations).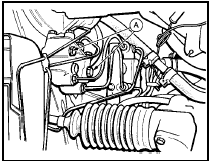 13.1a Pressure regulating valve mounting bolts (A) - pre-1986 models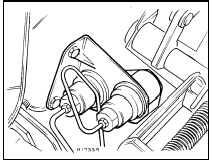 13.1b Pressure regulating valves and mounting bracket - 1986 models onward
Removal
Note: Before starting work, refer to the warning at the beginning of Section 3 concerning the dangers of hydraulic fluid.
2 Unscrew the unions, noting their locations and disconnect the hydraulic pipes from the valve(s). Cap the ends of the pipes with bleed nipple dust caps to prevent fluid loss.
3 Unscrew the mounting bolts and remove the valve or mounting bracket as applicable.
On later models extract the retaining clips and remove the valves from the bracket (see illustration).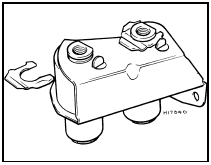 13.3 Pressure regulating valve-to-bracket retaining clip - 1986 models onward
4 On both versions the valves are sealed units and only serviced as complete assemblies.
Refitting
5 Refitting is the reverse sequence to removal but bleed the hydraulic system as described in Section 11 on completion.
See also:
Steering wheel - alignment
1 Owing to the fact that the steering wheel is located on a hexagon shaped steering shaft, it may be difficult to obtain perfect steering wheel alignment due to lack of fine adjustment. 2 It is th ...
Cold start valve - removal and refitting
Note: Refer to the precautions at the end of Section 1 before proceeding. K-Jetronic system Removal 1 Disconnect the battery earth lead. 2 Detach the electrical wiring multi-plug from the valve ...
Braking system warning lamps and electrical switches - removal and refitting
General 1 All models are fitted with a low fluid level warning switch in the master cylinder reservoir cap and a brake pedal stop-lamp switch. 2 Some versions have front disc pad wear sensors and ...