Pressure regulating valve (Saloon and Estate models) - removal and refitting
1 The brake pressure regulating valve is located within the engine compartment, just above the aperture in the wing inner panel through which the steering tie-rod passes. On pre-1986 models the valves comprise a metal housing bolted to the inner panel. On later models the valves, one for each brake circuit, are individually located in a bracket attached to the inner panel (see illustrations).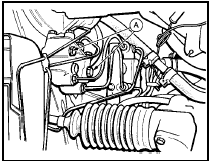 13.1a Pressure regulating valve mounting bolts (A) - pre-1986 models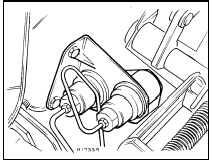 13.1b Pressure regulating valves and mounting bracket - 1986 models onward
Removal
Note: Before starting work, refer to the warning at the beginning of Section 3 concerning the dangers of hydraulic fluid.
2 Unscrew the unions, noting their locations and disconnect the hydraulic pipes from the valve(s). Cap the ends of the pipes with bleed nipple dust caps to prevent fluid loss.
3 Unscrew the mounting bolts and remove the valve or mounting bracket as applicable.
On later models extract the retaining clips and remove the valves from the bracket (see illustration).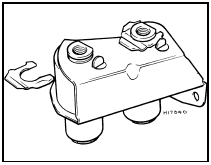 13.3 Pressure regulating valve-to-bracket retaining clip - 1986 models onward
4 On both versions the valves are sealed units and only serviced as complete assemblies.
Refitting
5 Refitting is the reverse sequence to removal but bleed the hydraulic system as described in Section 11 on completion.
See also:
Fuel tank - removal and refitting
The procedures are the same as described in Part A of this Chapter for carburettor engines, but in addition disconnect the fuel tank-to-fuel pump hose from the rear face of the tank. ...
Battery - testing and charging
Note: Refer to the precautions at the end of Section 1 before proceeding. Standard and low maintenance battery - testing 1 If the car covers a small annual mileage it is worthwhile checking the s ...
Folding roof (Cabriolet models) - removal and refitting
Removal 1 Remove the rear side, wheel arch and roof stowage compartment trim panels. 2 Disconnect the heated rear window wiring and pull it from the weatherstrip. 3 Release the roof front locking ...