Pressure regulating valve (Saloon and Estate models) - removal and refitting
1 The brake pressure regulating valve is located within the engine compartment, just above the aperture in the wing inner panel through which the steering tie-rod passes. On pre-1986 models the valves comprise a metal housing bolted to the inner panel. On later models the valves, one for each brake circuit, are individually located in a bracket attached to the inner panel (see illustrations).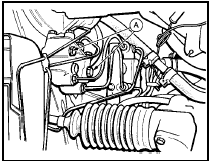 13.1a Pressure regulating valve mounting bolts (A) - pre-1986 models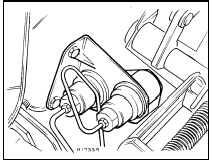 13.1b Pressure regulating valves and mounting bracket - 1986 models onward
Removal
Note: Before starting work, refer to the warning at the beginning of Section 3 concerning the dangers of hydraulic fluid.
2 Unscrew the unions, noting their locations and disconnect the hydraulic pipes from the valve(s). Cap the ends of the pipes with bleed nipple dust caps to prevent fluid loss.
3 Unscrew the mounting bolts and remove the valve or mounting bracket as applicable.
On later models extract the retaining clips and remove the valves from the bracket (see illustration).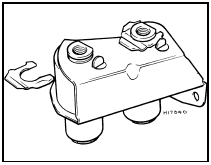 13.3 Pressure regulating valve-to-bracket retaining clip - 1986 models onward
4 On both versions the valves are sealed units and only serviced as complete assemblies.
Refitting
5 Refitting is the reverse sequence to removal but bleed the hydraulic system as described in Section 11 on completion.
See also:
Timing belt and sprockets - removal and refitting
Note: The belt tension should be checked using Ford special tool No 21-113 after refitting. A suitable puller may be required to remove the sprockets. If the camshaft sprocket is removed, a new re ...
Heater unit - overhaul
1 With the heater unit removed from the vehicle, remove the two securing screws and withdraw the heater matrix from the casing (see illustrations). 19.1a Remove the securing screws . . . 19.1 ...
Braking system
The braking system is of the dual circuit hydraulic type with disc brakes at the front and drum brakes at the rear. A diagonally split dual circuit hydraulic system is employed in which each circu ...