Folding roof (Cabriolet models) - removal and refitting
Removal
1 Remove the rear side, wheel arch and roof stowage compartment trim panels.
2 Disconnect the heated rear window wiring and pull it from the weatherstrip.
3 Release the roof front locking catches.
4 Unscrew the nuts and remove the rear window frame guides.
5 Remove the protection cover screw and the tensioning screw from each side (see illustration).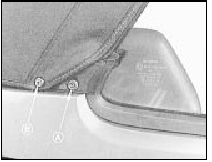 22.5 Protection cover screw (A) and tensioning screw (B) - Cabriolet models
6 Unscrew the nuts at both tensioning cable blocks.
7 Pull the roof and cable from the rail and release the cable.
8 With the roof frame upright, unbolt the strap retaining brackets.
9 Remove the headlining wire screw and unhook the wire.
10 Disconnect the gas struts.
11 Lower the front of the roof then unscrew the three mounting bolts on each side.
12 Lift the complete folding roof from the car.
Refitting
13 Refitting is a reversal of removal, but do not tighten the mounting bolts or tensioning block nuts until the front of the roof is locked and the rear beading is in the rail (see illustration). It may be necessary to use a tamping tool to ensure that the tensioning cable is fully inserted in the rail. A little sealant should be applied at the points where the cable passes through the covering.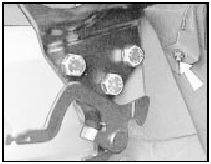 22.13 Cable tensioning block nut (arrowed) - Cabriolet models
See also:
Waveband button
Press the RADIO button to select from the wavebands available. The selector can also be used to return to radio reception when you have been listening to another source. Alternatively, press the ...
General description
The body is of welded steel construction available in 3 or 5-door Hatchback, 3 or 5- door Estate, soft-top Cabriolet, or Van configurations. The body is of monocoque construction and is of energy ...
Oil pump - dismantling, inspection and reassembly
Note: A new pressure relief valve plug and pick-up tube gasket will be required for reassembly. Dismantling 1 If oil pump wear is suspected, check the cost and availability of new parts and the c ...