Windscreen wiper motor and linkage - removal and refitting
Removal
1 Remove the wiper arms and blades as described in Section 17.
2 Disconnect the battery negative terminal.
3 Remove the nut covers, the fixing nuts, washers and spacers from the pivot shafts.
4 Disconnect the wiper motor wiring at the multi-pin plugs.
5 Unscrew the two fixing bolts and withdraw the motor complete with linkage from the engine compartment (see illustration).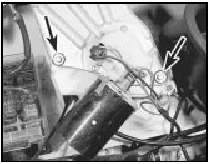 18.5 Windscreen wiper motor fixing bolts (arrowed)
6 Remove the spacers from the pivot shafts.
7 The motor can be separated from the linkage by removing the nut from the crankarm and then unbolting the motor from the mounting.
Refitting
8 Refitting is a reversal of removal, but connect the motor crankarm when the link is aligned with it as shown (see illustration).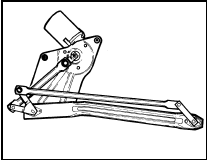 18.8 Windscreen wiper crankarm alignment for refitting
See also:
Ignition systems
The ignition system is divided into two circuits, low tension (primary) and high tension (secondary). The low tension circuit consists of the battery, ignition switch, primary coil windings and th ...
Alternator drivebelt check (Every 6000 miles or 6 months)
1 A conventional vee drivebelt is used to drive both the alternators and water pump pulleys on OHV and HCS engines, and the alternator pulley only on CVH engines, power being transmitted via a pul ...
Auxiliary warning system components - removal and refitting
General 1 This system monitors the fluid levels and front brake pads for excessive wear. In the event of a fluid level dropping below the specified level, or the brake pads wearing down to the mi ...