Windscreen wiper motor and linkage - removal and refitting
Removal
1 Remove the wiper arms and blades as described in Section 17.
2 Disconnect the battery negative terminal.
3 Remove the nut covers, the fixing nuts, washers and spacers from the pivot shafts.
4 Disconnect the wiper motor wiring at the multi-pin plugs.
5 Unscrew the two fixing bolts and withdraw the motor complete with linkage from the engine compartment (see illustration).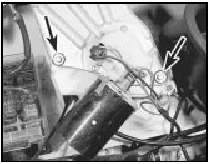 18.5 Windscreen wiper motor fixing bolts (arrowed)
6 Remove the spacers from the pivot shafts.
7 The motor can be separated from the linkage by removing the nut from the crankarm and then unbolting the motor from the mounting.
Refitting
8 Refitting is a reversal of removal, but connect the motor crankarm when the link is aligned with it as shown (see illustration).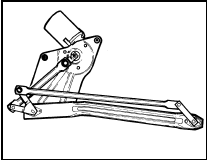 18.8 Windscreen wiper crankarm alignment for refitting
See also:
Cylinder head - inspection and renovation
Note: On engines fitted with hardened valve seats for use with unleaded petrol, valve and valve seat grinding and recutting cannot be carried out without the use of specialist equipment. Consult a ...
Auxiliary shaft - removal, inspection and refitting
Note: A new gasket should be used when refitting the auxiliary shaft cover (see text). Removal 1 Remove the timing belt and the auxiliary shaft sprocket. 2 Remove the distributor. 3 Remove the m ...
Exterior mirror - removal and refitting
Without remote control Removal 1 Using a screwdriver, prise off the triangular trim panel from inside the mirror mounting position. 2 Unscrew the three screws and withdraw the mirror. Refitting ...