Windscreen wiper motor and linkage - removal and refitting
Removal
1 Remove the wiper arms and blades as described in Section 17.
2 Disconnect the battery negative terminal.
3 Remove the nut covers, the fixing nuts, washers and spacers from the pivot shafts.
4 Disconnect the wiper motor wiring at the multi-pin plugs.
5 Unscrew the two fixing bolts and withdraw the motor complete with linkage from the engine compartment (see illustration).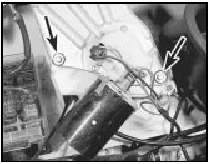 18.5 Windscreen wiper motor fixing bolts (arrowed)
6 Remove the spacers from the pivot shafts.
7 The motor can be separated from the linkage by removing the nut from the crankarm and then unbolting the motor from the mounting.
Refitting
8 Refitting is a reversal of removal, but connect the motor crankarm when the link is aligned with it as shown (see illustration).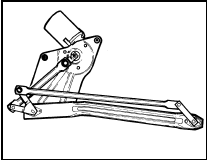 18.8 Windscreen wiper crankarm alignment for refitting
See also:
Mazda Owners Manuals and Tech. info
Mazda began as the Toyo Cork Kogyo Co., Ltd, founded in Japan in 1920. Toyo Cork Kogyo renamed itself to Toyo Kogyo Co., Ltd. in 1927. Toyo Kogyo moved from manufacturing machine tools to vehicles wit ...
Fuel pressure regulator - removal and refitting
Note: Refer to the precautions at the end of Section 1 before proceeding. A new sealing ring will be required on refitting. Removal 1 Disconnect the battery negative lead. 2 Depressurise the fuel ...
Overview
The car that changed the face of Ford and the look of British traffic jams everywhere. Honest, uncomplicated, reliable and cheap second-hand. ...