Windscreen wiper motor and linkage - removal and refitting
Removal
1 Remove the wiper arms and blades as described in Section 17.
2 Disconnect the battery negative terminal.
3 Remove the nut covers, the fixing nuts, washers and spacers from the pivot shafts.
4 Disconnect the wiper motor wiring at the multi-pin plugs.
5 Unscrew the two fixing bolts and withdraw the motor complete with linkage from the engine compartment (see illustration).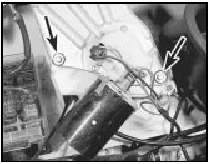 18.5 Windscreen wiper motor fixing bolts (arrowed)
6 Remove the spacers from the pivot shafts.
7 The motor can be separated from the linkage by removing the nut from the crankarm and then unbolting the motor from the mounting.
Refitting
8 Refitting is a reversal of removal, but connect the motor crankarm when the link is aligned with it as shown (see illustration).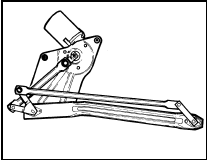 18.8 Windscreen wiper crankarm alignment for refitting
See also:
Detachable tow ball
WARNINGS: When not in use, always transport the tow ball arm securely fastened in the luggage compartment. Take special care when fitting the tow ball arm as the safety of the vehicle and the tr ...
Starter motor - removal and refitting
Removal 1 Disconnect the battery. 2 Working from under the vehicle, disconnect the main starter motor cable and the two wires from the starter solenoid (see illustration). 8.2 Disconnecting th ...
Lexus Manuals
Lexus has earned a well-deserved reputation for turning out utterly refined luxury vehicles. The hallmarks of this brand are a quiet, well-crafted cabin, a plush ride and commendable performance from ...