Windscreen wiper motor and linkage - removal and refitting
Removal
1 Remove the wiper arms and blades as described in Section 17.
2 Disconnect the battery negative terminal.
3 Remove the nut covers, the fixing nuts, washers and spacers from the pivot shafts.
4 Disconnect the wiper motor wiring at the multi-pin plugs.
5 Unscrew the two fixing bolts and withdraw the motor complete with linkage from the engine compartment (see illustration).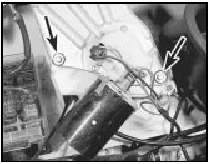 18.5 Windscreen wiper motor fixing bolts (arrowed)
6 Remove the spacers from the pivot shafts.
7 The motor can be separated from the linkage by removing the nut from the crankarm and then unbolting the motor from the mounting.
Refitting
8 Refitting is a reversal of removal, but connect the motor crankarm when the link is aligned with it as shown (see illustration).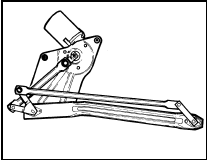 18.8 Windscreen wiper crankarm alignment for refitting
See also:
Power-operated folding roof - fluid level checking and bleeding
General 1 As from 1987, a power-operated folding roof is available as an option on Cabriolet models. 2 The roof is operated hydraulically from an electric pump located in the left-hand side of t ...
Instrument panel components - removal and refitting
1 Remove the instrument panel. Panel illumination and warning lamp bulbs 2 Twist the relevant bulbholder anticlockwise and withdraw it from the printed circuit board on the rear of the instrument ...
Examination and renovation
1 Clean all components using paraffin and a stiff brush, except the crankshaft, which should be wiped clean and the oil passages cleaned out with a length of wire. 2 Never assume that a component ...