Windscreen wiper motor and linkage - removal and refitting
Removal
1 Remove the wiper arms and blades as described in Section 17.
2 Disconnect the battery negative terminal.
3 Remove the nut covers, the fixing nuts, washers and spacers from the pivot shafts.
4 Disconnect the wiper motor wiring at the multi-pin plugs.
5 Unscrew the two fixing bolts and withdraw the motor complete with linkage from the engine compartment (see illustration).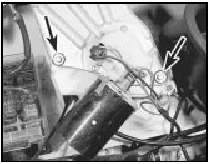 18.5 Windscreen wiper motor fixing bolts (arrowed)
6 Remove the spacers from the pivot shafts.
7 The motor can be separated from the linkage by removing the nut from the crankarm and then unbolting the motor from the mounting.
Refitting
8 Refitting is a reversal of removal, but connect the motor crankarm when the link is aligned with it as shown (see illustration).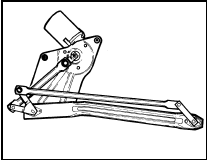 18.8 Windscreen wiper crankarm alignment for refitting
See also:
Climate control commands
Climate The climate voice commands supports the functionality of the fan speed, temperature and mode settings. Not all functions are available on all vehicles. Overview The overview below shows ...
Heated windows and mirrors
Heated windows Use the heated windows to defrost or demist the windscreen or rear window. Note: The heated windows operate only when the engine is running. Heated windscreen Note: Also defrost ...
Audio control
Select radio, CD or cassette mode on the audio unit. The following functions can be operated with the remote control: Volume Volume up: Press the top button on the back of the remote control. ...