Windscreen wiper motor and linkage - removal and refitting
Removal
1 Remove the wiper arms and blades as described in Section 17.
2 Disconnect the battery negative terminal.
3 Remove the nut covers, the fixing nuts, washers and spacers from the pivot shafts.
4 Disconnect the wiper motor wiring at the multi-pin plugs.
5 Unscrew the two fixing bolts and withdraw the motor complete with linkage from the engine compartment (see illustration).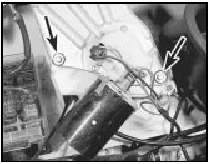 18.5 Windscreen wiper motor fixing bolts (arrowed)
6 Remove the spacers from the pivot shafts.
7 The motor can be separated from the linkage by removing the nut from the crankarm and then unbolting the motor from the mounting.
Refitting
8 Refitting is a reversal of removal, but connect the motor crankarm when the link is aligned with it as shown (see illustration).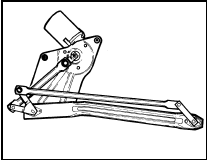 18.8 Windscreen wiper crankarm alignment for refitting
See also:
Automatic transmission fluid level check (Every 12 000 miles (20 000 km) or 12 months)
1 Fluid level should be checked with the transmission at operating temperature (after a run) and with the vehicle parked on level ground. 2 Open and prop the bonnet. With the engine idling and th ...
Minor body damage - repair
Repair of minor scratches in bodywork If the scratch is very superficial, and does not penetrate to the metal of the bodywork, repair is very simple. Lightly rub the area of the scratch with a pa ...
Handbrake lever - removal and refitting
Removal 1 Chock the rear wheels, jack up the front of the vehicle and support on axle stands. Release the handbrake. Disconnect the battery negative lead. 2 Slacken the handbrake cable adjuster. ...