Tailgate wiper motor - removal and refitting
Removal
1 Disconnect the battery and remove the wiper arm/blade assembly.
2 Remove the pivot shaft nut, spacer and outer seals.
3 Open the tailgate and remove the trim panel (refer to Chapter 11).
4 Release the earth lead and unscrew the two, or on later models, three wiper motor mounting bolts (see illustration).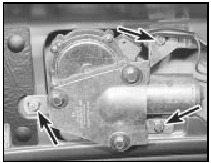 19.4 Tailgate wiper motor retaining bolts (arrowed)
5 Disconnect the multi-pin plug and remove the motor from the tailgate.
6 Take off the pivot shaft seal, spacer and bracket from the motor.
Refitting
7 Refit by reversing the removal operations.
See also:
Major operations requiring engine removal
The following work can only be carried out after removal of the engine from the car: a) Crankshaft main bearings - renewal. b) Crankshaft - removal and refitting. c) Flywheel - removal and refitti ...
Introduction
General information This Chapter is designed to help the home mechanic maintain his/her vehicle for safety, economy, long life and peak performance. The Chapter contains a master maintenance sche ...
Minor body damage - repair
Repair of minor scratches in bodywork If the scratch is very superficial, and does not penetrate to the metal of the bodywork, repair is very simple. Lightly rub the area of the scratch with a pa ...