Ignition system component check (Every 24 000 miles (40 000 km) or 2 years)
1 Before disturbing any part of the ignition system, disconnect the battery negative lead.
2 Identify and clearly mark all HT leads before disconnecting them from the spark plugs.
3 Refer to the appropriate Section in Chapter 5 and, where applicable, remove the distributor cap and rotor arm.
4 Clean the HT leads and distributor cap with a dry cloth. Scrape any corrosion or other deposits from the connectors and terminals.
Also clean the coil tower.
5 Renew the HT leads if they are cracked, burnt or otherwise damaged. If a multi-meter is available, measure the resistance of the leads. The desired value is given in the Specifications of Chapter 5.
6 Renew the distributor cap if it is cracked or badly burnt inside, or if there is evidence of "tracking" (black lines marking the path of HT leakage). If there is a carbon brush at the centre of the cap, make sure that it moves freely, and is not excessively worn (see illustration).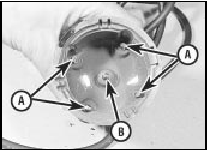 39.6 Bosch distributor cap showing HT segments (A) and carbon brush (B)
7 Clean the metal track of the rotor arm with fine abrasive paper. Renew the arm if it is cracked or badly burnt.
8 Refit the rotor arm and distributor cap.
9 Reconnect the HT leads to the spark plugs and coil.
10 Reconnect the battery and run the engine.
See also:
Manifold Absolute Pressure (MAP) sensor - removal and refitting
Removal 1 Disconnect the battery negative lead. 2 Disconnect the sensor wiring plug. Do not pull on the wiring. 3 Disconnect the vacuum hose from the sensor. 4 Remove the two securing screws and ...
Cylinder head - removal and refitting
Removal Note: On HCS engines, cylinder head bolts may be used a total of three times (including initial fit) and must be suitably marked to indicate each removal operation. A new cylinder head ga ...
Oil pump - dismantling, inspection and reassembly
1.8 litre (R2A type) 1 If oil pump wear is suspected, check the cost and availability of new parts and the cost of a new pump. Examine the pump as described in this Section and then decide whethe ...