Fuel pressure regulator (models up to 1985) - removal and refitting
Caution: Refer to the precautions in Section 1 before proceeding.
Removal
1 The fuel pressure regulator is located on the left-hand side of the engine compartment (see illustration).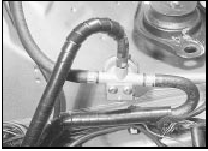 5.1 Fuel pressure regulator location - models up to 1985
2 Disconnect the battery negative lead.
3 Identify the fuel hose locations, as an aid to refitting. Note that there are three hose connections on models without a fuel flow sensor unit, and two hose connections on models with a fuel flow sensor unit.
4 Disconnect and plug the fuel hoses.
5 Remove the two securing screws and withdraw the regulator.
Refitting
6 Refitting is a reversal of removal, ensuring that the fuel hoses are correctly connected. If the hoses were originally secured with crimped type clips, discard them and use new worm drive clips.
See also:
CVH engines
CVH (Compound Valve angle, Hemispherical combustion chambers) engines are of four cylinder in-line overhead camshaft type, mounted transversely, together with the transmission, at the front of the ...
Manifolds, exhaust and emission control systems
All models utilise a light alloy inlet manifold which on carburettor models is coolant heated to improve the atomisation of the fuel/air mixture. The exhaust manifold is of cast iron construction ...