Fuel pressure regulator (models up to 1985) - removal and refitting
Caution: Refer to the precautions in Section 1 before proceeding.
Removal
1 The fuel pressure regulator is located on the left-hand side of the engine compartment (see illustration).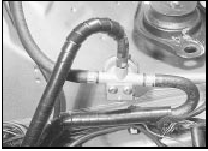 5.1 Fuel pressure regulator location - models up to 1985
2 Disconnect the battery negative lead.
3 Identify the fuel hose locations, as an aid to refitting. Note that there are three hose connections on models without a fuel flow sensor unit, and two hose connections on models with a fuel flow sensor unit.
4 Disconnect and plug the fuel hoses.
5 Remove the two securing screws and withdraw the regulator.
Refitting
6 Refitting is a reversal of removal, ensuring that the fuel hoses are correctly connected. If the hoses were originally secured with crimped type clips, discard them and use new worm drive clips.
See also:
Door inner trim panel - removal and refitting
Front door Models up to 1987 1 On models with manually-operated windows, prise the cover from the window regulator handle, note the position of the handle with the window fully shut, then remove ...
Door window - removal and refitting
Front door 1 Remove the door inner trim panel. 2 Where necessary for access, peel back the waterproof plastic sheet from the door. 3 Remove the door mirror. 4 Remove the window channel extension ...
Handbrake cable - adjustment
Note: Where fitted, the adjuster locking pin must be renewed on completion of adjustment. Conventional braking system (except P100 models) 1 The handbrake cable is normally self-adjusting in use ...