Fuel system (1.6 and 1.8 litre (R6A type) CVH) - depressurisation
Remember to depressurise the fuel system before loosening any connections.
Refer to the precautions in Section 1 before proceeding. The fuel system will remain pressurised after the engine is switched off.
1 Disconnect the battery negative lead.
2 Remove the air cleaner assembly.
3 Position a suitable container (or a sufficient quantity of absorbent cloth) beneath the fuel inlet connection on the CFI unit.
4 Use an open-ended spanner on the flats of the inlet union screwed into the CFI unit, to prevent it from turning while the inlet pipe union is loosened (see illustration). Allow all pressure/fuel seepage to dissipate before fully unscrewing the union if it is to be disconnected, or tightened if another part of the system is to be worked on.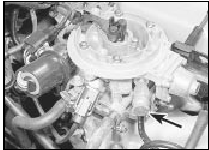 4.4 CFI unit fuel inlet union (arrowed)
5 The system will remain depressurised until the fuel pump is primed prior to starting the engine. Remove the container or cloth, as applicable, on completion.
Fuel filter - renewal
Refer to Chapter 1, Section 41.
See also:
Handbrake lever - removal and refitting
Removal 1 Chock the front wheels, raise and support the vehicle at the rear using stands (see "Jacking and Vehicle Support") then release the handbrake. 2 Working underneath, extract the spring c ...
Starter motor brushes - renewal
1 Starter motor brush renewal is a relatively difficult procedure, requiring skill in the use of a soldering iron. It should also be borne in mind that if the starter motor has been in service lon ...
Automatic transmission selector mechanism check (Every 12 000 miles or 12 months)
Carry out a thorough road test, ensuring that all gearchanges occur smoothly without snatching, and without an increase in engine speed between changes. Check that all gear positions can be engage ...