Fuel system (1.6 and 1.8 litre (R6A type) CVH) - depressurisation
Remember to depressurise the fuel system before loosening any connections.
Refer to the precautions in Section 1 before proceeding. The fuel system will remain pressurised after the engine is switched off.
1 Disconnect the battery negative lead.
2 Remove the air cleaner assembly.
3 Position a suitable container (or a sufficient quantity of absorbent cloth) beneath the fuel inlet connection on the CFI unit.
4 Use an open-ended spanner on the flats of the inlet union screwed into the CFI unit, to prevent it from turning while the inlet pipe union is loosened (see illustration). Allow all pressure/fuel seepage to dissipate before fully unscrewing the union if it is to be disconnected, or tightened if another part of the system is to be worked on.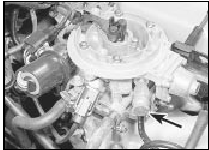 4.4 CFI unit fuel inlet union (arrowed)
5 The system will remain depressurised until the fuel pump is primed prior to starting the engine. Remove the container or cloth, as applicable, on completion.
Fuel filter - renewal
Refer to Chapter 1, Section 41.
See also:
Ford Escort maintenance schedule
The maintenance intervals in this manual are provided with the assumption that you, not the dealer, will be carrying out the work. These are the minimum maintenance intervals recommended by the man ...
Starting and charging systems
The engine electrical system includes all charging, starting and ignition system components and the engine oil pressure sensor. ...
Facia panel switches - removal and refitting
1 Disconnect the battery negative lead. Rocker switches and push button switches 2 Using a thin-bladed screwdriver, carefully prise the switch from the facia panel. 3 Disconnect the wiring plug a ...