Hydraulic unit accumulator (ABS) - removal and refitting
Note: A new O-ring must be used between the accumulator and the hydraulic unit on refitting.
Caution: Refer to the
precautions in Section 1.
Removal
1 Disconnect the battery negative lead.
2 Depressurise the hydraulic system by pumping the brake pedal at least 20 times, or until it becomes hard.
3 Wrap a clean rag round the base of the accumulator to catch any spilt fluid.
4 Unscrew the accumulator using a hexagon key. Remove the accumulator, noting the sealing ring and being prepared for fluid spillage (see illustration). If fluid is accidentally spilt on the paintwork, wash off immediately with cold water.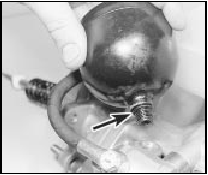 17.4 Unscrew the accumulator and remove it, noting the O-ring (arrowed)
Refitting
5 Fit a new O-ring to the base of the accumulator, fit the accumulator and tighten it.
6 Reconnect the battery. Switch on the ignition and check that the hydraulic unit pump stops within 60 seconds; if not, the accumulator is likely to be faulty.
7 On completion, bleed the complete hydraulic system and check for leaks around all disturbed components.
See also:
Heating and ventilation system - description
The heater is of the type which utilises waste heat from the engine coolant. The coolant is pumped through the matrix in the heater casing where air, force-fed by a duplex radial fan, disperses th ...
Fuel vapour separator (models from 1985) - removal and refitting
Caution: Refer to the precautions in Section 1 before proceeding. Removal 1 On SOHC models, the vapour separator is located on the left-hand side of the engine compartment. On CVH models, the va ...
General information and precautions
The fuel system on all models with carburettor induction is composed of a centrally mounted fuel tank, a fuel pump, a carburettor and an air cleaner. The fuel tank is mounted under the floor pan ...