Hydraulic unit accumulator (ABS) - removal and refitting
Note: A new O-ring must be used between the accumulator and the hydraulic unit on refitting.
Caution: Refer to the
precautions in Section 1.
Removal
1 Disconnect the battery negative lead.
2 Depressurise the hydraulic system by pumping the brake pedal at least 20 times, or until it becomes hard.
3 Wrap a clean rag round the base of the accumulator to catch any spilt fluid.
4 Unscrew the accumulator using a hexagon key. Remove the accumulator, noting the sealing ring and being prepared for fluid spillage (see illustration). If fluid is accidentally spilt on the paintwork, wash off immediately with cold water.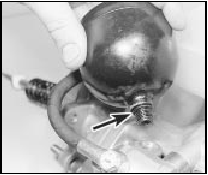 17.4 Unscrew the accumulator and remove it, noting the O-ring (arrowed)
Refitting
5 Fit a new O-ring to the base of the accumulator, fit the accumulator and tighten it.
6 Reconnect the battery. Switch on the ignition and check that the hydraulic unit pump stops within 60 seconds; if not, the accumulator is likely to be faulty.
7 On completion, bleed the complete hydraulic system and check for leaks around all disturbed components.
See also:
Loudspeakers - removal and refitting
1 Disconnect the battery earth lead. Facia panel-mounted speakers Upper 2 Prise the speaker grille from its four retaining clips in the facia using a thin-bladed screwdriver. 3 Remove the four s ...
Airflow meter - removal and refitting
Note: A tachometer and an exhaust gas analyser will be required to check the idle mixture on completion. 1 Disconnect the battery negative lead. 2 Depress the locking clip on the airflow meter wi ...
Maintenance - upholstery and carpets
Mats and carpets should be brushed or vacuum cleaned regularly to keep them free of grit. If they are badly stained remove them from the vehicle for scrubbing or sponging and make quite sure they ...