Handbrake lever - removal and refitting
Removal
1 Chock the rear wheels, jack up the front of the vehicle and support on axle stands.
Release the handbrake. Disconnect the battery negative lead.
2 Slacken the handbrake cable adjuster.
3 Extract the securing circlip and pivot pin, and detach the handbrake equaliser from the linkage on the underbody (see illustration).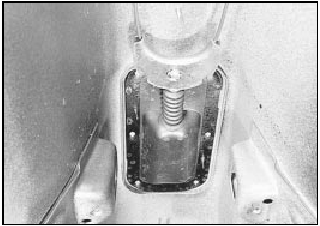 29.3 Handbrake equaliser and linkage on underbody
4 Working inside the vehicle, remove the handbrake lever rubber gaiter and/or the centre console, as necessary.
5 Disconnect the wiring connector from the handbrake УonФ warning switch.
6 Unscrew the two handbrake lever mounting bolts, and carefully lift the lever through the underfloor gaiter.
7 If required, the handbrake УonФ warning switch can be removed.
Refitting
8 Refitting is a reversal of removal, but on completion, adjust the handbrake cable.
Brake pedal - removal and refitting
Removal
1 Remove the clutch pedal as described in Chapter 6.
2 Extract the inboard circlip from the brake pedal end of the pivot shaft (see illustration).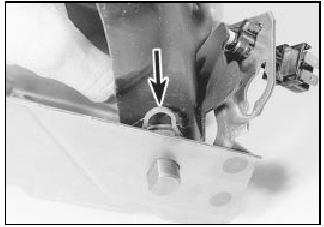 30.2 Extract the inboard circlip (arrowed) to remove the pedal pivot shaft
3 The brake pedal can now be removed from the pedal bracket by sliding out the pivot shaft, noting the position of any washers and spacers which may be fitted.
4 If desired, the nylon bushes can be prised from each side of the pedal for renewal, and the brake lamp switch removed.
Refitting
5 Refitting is a reversal of removal, fitting any washers and spacers in their original positions. Refit the clutch pedal.
See also:
Door - removal and refitting
Front door 1 On models with electric mirrors, electric windows, central-locking, door-mounted speakers, or Уdoor ajarФ sensors, remove the trim panel and disconnect the wiring inside the door. Wi ...
Rear suspension angles - general
The rear wheel toe and camber angles are set in production and do not require checking under normal service conditions. Of the two, only the toe setting can be adjusted, the camber angle being fix ...
Rear disc caliper - removal, overhaul and refitting
Note: Complete dismantling of the rear caliper should not be attempted unless Ford spring compressor (tool No 12-007) is available, or unless the problems likely to arise in the absence of the too ...