Rear anti-roll bar (Saloon, Hatchback and Estate models) - removal and refitting
Removal
1 Loosen the rear roadwheel nuts, chock the front wheels, jack up the rear of the vehicle and support on axle stands placed under the side members.
2 Prise off the straps which connect the anti-roll bar to the suspension lower arms (see illustration).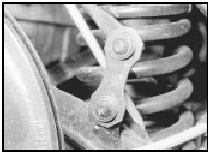 17.2 Anti-roll bar-to-lower arm connecting strap
3 Unbolt the two securing brackets from the underbody, and remove the anti-roll bar (see illustration).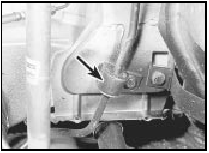 17.3 Anti-roll bar-to-underbody securing bracket
4 The connecting straps can be prised from the ends of the anti-roll bar, and the underbody mounting brackets and rubbers, which are of a split design, can be pulled off.
5 When fitting new mounting components, lubricate the rubber parts with soapy water to ease assembly.
Refitting
6 Refitting is a reversal of removal. Tighten the anti-roll bar-to-underbody securing bolts to the specified torque.
See also:
Front brake disc - inspection, removal and refitting
Note: Before starting work, refer to the warning at the beginning of Section 2 concerning the dangers of asbestos dust. Inspection 1 Fully apply the handbrake then loosen the front roadwheel bolt ...
Engine/manual gearbox assembly - removal and separation
Note: Refer to the warning in Section 8 before proceeding. A suitable hoist and lifting tackle will be required for this operation. Removal 1 Proceed as described in Section 9, paragraphs 1 to 17 ...
Turbocharger- removal and refitting
Note: New gaskets and new tabwashers must be used on refitting. Removal 1 Disconnect the battery negative lead. 2 Disconnect the turbocharger inlet and outlet air hoses and the hoses from the was ...