Rear anti-roll bar (Saloon, Hatchback and Estate models) - removal and refitting
Removal
1 Loosen the rear roadwheel nuts, chock the front wheels, jack up the rear of the vehicle and support on axle stands placed under the side members.
2 Prise off the straps which connect the anti-roll bar to the suspension lower arms (see illustration).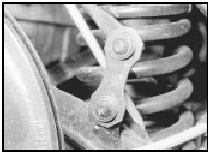 17.2 Anti-roll bar-to-lower arm connecting strap
3 Unbolt the two securing brackets from the underbody, and remove the anti-roll bar (see illustration).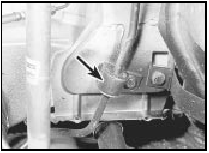 17.3 Anti-roll bar-to-underbody securing bracket
4 The connecting straps can be prised from the ends of the anti-roll bar, and the underbody mounting brackets and rubbers, which are of a split design, can be pulled off.
5 When fitting new mounting components, lubricate the rubber parts with soapy water to ease assembly.
Refitting
6 Refitting is a reversal of removal. Tighten the anti-roll bar-to-underbody securing bolts to the specified torque.
See also:
Safety restraints
Safety restraints precautions Always drive and ride with your seatback upright and the lap belt snug and low across the hips. To reduce the risk of injury, make sure children sit where they can ...
Power steering pump - removal and refitting
Note: New power steering fluid hose O-rings will be required when refitting. All engines except 1.8 litre (R6A) CVH and 2.0 litre DOHC 1 Place a suitable container under the power steering pump, ...
Door interior handle - removal and refitting
Removal 1 Remove the door inner trim panel. 2 Where necessary for improved access, peel back the waterproof plastic sheet from the door. 3 Remove the two securing screws in the case of models up ...