Fuel pressure regulator - removal and refitting
Note: Refer to the precautions at the end of Section 1 before proceeding. A new sealing ring will be required on refitting.
Removal
1 Disconnect the battery negative lead.
2 Depressurise the fuel system as described in Section 6.
3 Disconnect the fuel return hose from the regulator. Be prepared for fuel spillage and take adequate fire precautions (see illustration).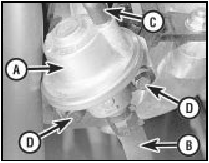 8.3 Fuel pressure regulator assembly - 1.6 EFI engine
A Regulator
B Fuel return hose
(to tank)
C Vacuum hose
D Securing bolts
4 Disconnect the vacuum hose from the regulator.
5 Unscrew the two securing bolts and withdraw the regulator from the fuel rail.
6 Recover the sealing ring.
Refitting
7 Refitting is a reversal of removal, but use a new sealing ring, and on completion, switch the ignition on and off five times without cranking the engine and check for fuel leaks.
See also:
Boot lid (Saloon models) - removal and refitting
Removal 1 Open the boot lid, and place protective covers (old rags or cardboard) beneath the corners of the lid, and over the rear wings to prevent damage to the paintwork. 2 Where applicable, di ...
Engine - removal leaving manual gearbox in vehicle
Note: The air conditioning system should always be discharged by a Ford dealer or air conditioning specialist. Note: Refer to the warning in Section 8 before proceeding. A suitable hoist and lifti ...
Heater controls - removal and refitting
Pre-1986 models Removal 1 Working inside the vehicle, remove the dash lower trim panel from the right-hand side. The panel is secured by two metal tags and two clips. 2 Detach the air ducts from ...