Starter motor - removal and refitting
Removal
1 Disconnect the battery.
2 Working from under the vehicle, disconnect the main starter motor cable and the two wires from the starter solenoid (see illustration).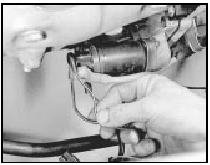 8.2 Disconnecting the wiring from the starter motor solenoid
3 Unbolt the starter motor and withdraw it from its location.
Refitting
4 Refit by reversing the removal operations.