Carbon canister-purge solenoid (models with catalytic converter) - removal and refitting
2.0 litre DOHC models 1 The purge solenoid is located next to the carbon canister, on the right-hand side of the engine compartment.
2 Disconnect the battery negative lead.
3 Disconnect the solenoid wiring plug halves by releasing the locktabs and pulling on the plug halves, not the wiring.
4 Note the locations of the two solenoid pipes, and the orientation of the solenoid, to assist with refitting.
5 Disconnect the two pipes from the solenoid, and withdraw the solenoid from its location.
6 Refitting is a reversal of removal. Ensure that the solenoid pipes are correctly reconnected, and that the solenoid is correctly orientated, as noted before removal.
1.6 and 1.8 litre (R6A type) CVH models
7 On 1.6 litre engines, the purge solenoid is located to the rear of the carbon canister, on the right-hand side of the engine compartment. On 1.8 litre engines, the location varies according to model and equipment, but can be traced by following the solenoid pipes back from the carbon canister (see illustration).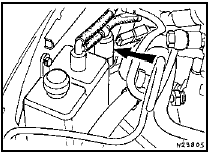 34.7 Carbon canister-purge solenoid location (arrowed) - 1.6/1.8 litre (R6A) CVH
8 Proceed as detailed in paragraphs 2 to 6 inclusive.
See also:
Automatic transmission fluid level check (Every 12 000 miles (20 000 km) or 12 months)
1 Fluid level should be checked with the transmission at operating temperature (after a run) and with the vehicle parked on level ground. 2 Open and prop the bonnet. With the engine idling and th ...
Routine maintenance and servicing
This Chapter is designed to help the home mechanic maintain his/her vehicle for safety, economy, long life and peak performance. The Chapter contains a master maintenance schedule, followed by Sect ...
Engine - reassembly
Note: Ensure that all necessary new oil seals and gaskets have been obtained before starting the reassembly procedure. OHV engines 1 With everything clean, commence reassembly by oiling the bores ...