Carbon canister-purge solenoid (models with catalytic converter) - removal and refitting
2.0 litre DOHC models 1 The purge solenoid is located next to the carbon canister, on the right-hand side of the engine compartment.
2 Disconnect the battery negative lead.
3 Disconnect the solenoid wiring plug halves by releasing the locktabs and pulling on the plug halves, not the wiring.
4 Note the locations of the two solenoid pipes, and the orientation of the solenoid, to assist with refitting.
5 Disconnect the two pipes from the solenoid, and withdraw the solenoid from its location.
6 Refitting is a reversal of removal. Ensure that the solenoid pipes are correctly reconnected, and that the solenoid is correctly orientated, as noted before removal.
1.6 and 1.8 litre (R6A type) CVH models
7 On 1.6 litre engines, the purge solenoid is located to the rear of the carbon canister, on the right-hand side of the engine compartment. On 1.8 litre engines, the location varies according to model and equipment, but can be traced by following the solenoid pipes back from the carbon canister (see illustration).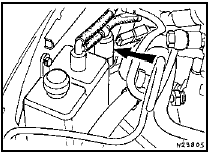 34.7 Carbon canister-purge solenoid location (arrowed) - 1.6/1.8 litre (R6A) CVH
8 Proceed as detailed in paragraphs 2 to 6 inclusive.
See also:
Brake hydraulic system (conventional braking system) - bleeding
Caution: Refer to the precautions in Section 1. General 1 If any of the hydraulic components in the braking system have been removed or disconnected, or if the fluid level in the reservoir has b ...
Weber 2V carburettor - adjustment
Idle speed and mixture adjustment 1 Refer to Chapter 1. Fast idle speed (XR3 models) 2 Remove the air cleaner as described in Section 2. 3 Have the engine at normal operating temperature, with ...
Headlamp wiper motor - removal and refitting
Note: On vehicles fitted with foglamps, the headlamp unit must be removed when the righthand headlamp wiper motor is to be removed. Removal 1 Disconnect the battery negative lead. 2 Disconnect th ...