Carbon canister-purge solenoid (models with catalytic converter) - removal and refitting
2.0 litre DOHC models 1 The purge solenoid is located next to the carbon canister, on the right-hand side of the engine compartment.
2 Disconnect the battery negative lead.
3 Disconnect the solenoid wiring plug halves by releasing the locktabs and pulling on the plug halves, not the wiring.
4 Note the locations of the two solenoid pipes, and the orientation of the solenoid, to assist with refitting.
5 Disconnect the two pipes from the solenoid, and withdraw the solenoid from its location.
6 Refitting is a reversal of removal. Ensure that the solenoid pipes are correctly reconnected, and that the solenoid is correctly orientated, as noted before removal.
1.6 and 1.8 litre (R6A type) CVH models
7 On 1.6 litre engines, the purge solenoid is located to the rear of the carbon canister, on the right-hand side of the engine compartment. On 1.8 litre engines, the location varies according to model and equipment, but can be traced by following the solenoid pipes back from the carbon canister (see illustration).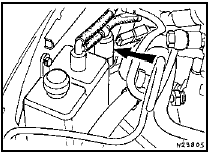 34.7 Carbon canister-purge solenoid location (arrowed) - 1.6/1.8 litre (R6A) CVH
8 Proceed as detailed in paragraphs 2 to 6 inclusive.
See also:
Bonnet lock - removal and refitting
Removal 1 Extract the three securing screws from the lock and lower it until the cable can be disconnected. 2 Withdraw the lock from below the top rail. Refitting 3 Refit by reversing the remova ...
CVH engines
CVH (Compound Valve angle, Hemispherical combustion chambers) engines are of four cylinder in-line overhead camshaft type, mounted transversely, together with the transmission, at the front of the ...
Fuel pump (2.0 litre SOHC) - removal and refitting
Caution: Refer to the precautions in Section 1 before proceeding. Removal 1 The fuel pump is located under the rear of the vehicle next to the fuel tank (see illustration). 8.1 Fuel pump loca ...