Steering column adjuster - dismantling and reassembly
Note: A new adjuster locknut and washer must be used on reassembly.
Dismantling
1 To dismantle the adjuster assembly, proceed as follows.
2 Remove the locknut and washer securing the adjuster through-bolt (see illustration).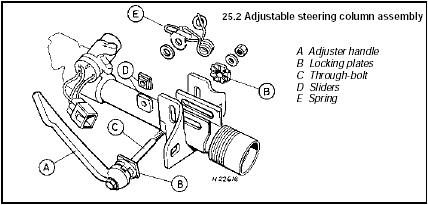 25.2 Adjustable steering column assembly
A Adjuster handle B Locking plates
C Through-bolt
D Sliders
E Spring
3 Remove the through-bolt, adjuster handle, locking plates, sliders and washers, then unclip the spring assembly.
Reassembly
4 Reassemble the components as follows.
5 Refit the spring to the adjuster assembly bracket.
6 Align the washers, sliders and locking plates, ensuring that the handle locking plate is fitted so that the cut-out and Ford logo are positioned as shown (see illustration).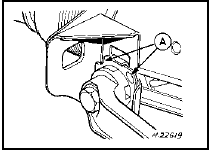 25.6 Cut-out and Ford logo (A) must be positioned as shown when reassembling adjustable steering column
7 Coat the through-bolt threads with a suitable thread-locking compound, then refit the through-bolt and the adjuster handle, ensuring that all components are engaged.
8 Position the handle in the locked position, and secure the through-bolt with a new locknut and washer.
See also:
Steering column - removal and refitting
Removal 1 Set the front wheels in the straight-ahead position. 2 Disconnect the battery negative lead. 3 Remove the driver's side lower facia trim panels. 4 Remove the screws and withdraw the s ...
Suspension and steering check (Every 6000 miles or 6 months)
Front suspension and steering check 1 Raise the front of the vehicle, and securely support it on axle stands (see "Jacking and Vehicle Support"). 2 Visually inspect the balljoint dust covers and ...
Rear disc splash shield - removal and refitting
Note: A suitable puller will be required to remove the drive flange, and a new rear hub nut must be used on reassembly. Caution: Refer to the precautions in Section 1. Removal 1 Loosen the rear ...