Headlamp wiper motor - removal and refitting
Note: On vehicles fitted with foglamps, the headlamp unit must be removed when the righthand headlamp wiper motor is to be removed.
Removal
1 Disconnect the battery negative lead.
2 Disconnect the washer hose from the nozzle on the end of the wiper arm, then remove the wiper arm.
3 Pull the washer hose and retainer from the end of the motor shaft.
4 Remove the radiator grille panel.
5 Where applicable, prise the trim strip from the bottom of the headlamp unit for access to the wiper motor mounting bolts (see illustrations).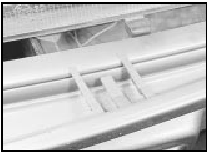 40.5a Prise the trim strip from the bottom of the headlamp unit . . .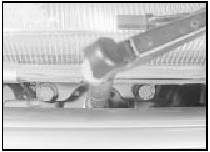 40.5b . . . for access to the headlamp wiper motor mounting bolts
6 Remove the two mounting bolts, then working under the wheel arch, slide the wiper motor rearwards, disconnect the wiring plug and withdraw the motor.
Refitting
7 Refitting is a reversal of removal, but on completion adjust the free length of the washer hose between the nozzle and the retainer on the motor shaft.
See also:
Getting roadside assistance
To fully assist you should you have a vehicle concern, Ford Motor Company offers a complimentary roadside assistance program. This program is separate from the New Vehicle Limited Warranty. The serv ...
Major operations possible with the engine in the car
The following work can be carried out without having to remove the engine: a) Cylinder head - removal and refitting. b) Valve clearances - adjustment (see Chapter 1). c) Sump - removal and refitt ...
General information
The 2.0 litre DOHC (Double OverHead Camshaft) engine was introduced in August 1989 to replace the 2.0 litre SOHC engine used previously in the Sierra range. The engine is of four-cylinder, in-line ...