Rocker gear - dismantling and reassembly
Dismantling 1 With the rocker assembly removed as described in Section 4, extract the split pin from one end of the rocker shaft (see illustration).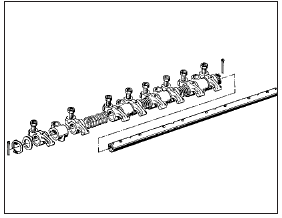 6.1 Rocker shaft assembly components
2 Take off the spring and plain washers from the end of the shaft.
3 Slide off the rocker arms, support pedestals and coil springs, keeping them in their originally fitted order. Clean out the oil holes in the shaft.
Reassembly
4 Apply engine oil to the rocker shaft before reassembling and make sure that the flat on the end of the shaft is to the same side as the rocker arm adjuster screws. This is essential for proper lubrication of the components.
See also:
Customer Assistance
FORD EXTENDED SERVICE PLAN You can get more protection for your new car or light truck by purchasing Ford Extended Service Plan (Ford ESP) coverage. Ford ESP is an optional service contract which i ...
Distributor components (CVH models) - removal and refitting
1 The distributor fitted to the CVH engine is unlike any conventional distributor, in that it has no main body and no adjustments are possible. The distributor is used purely to distribute HT volt ...
Oil pump - dismantling, inspection and reassembly
1.8 litre (R2A type) 1 If oil pump wear is suspected, check the cost and availability of new parts and the cost of a new pump. Examine the pump as described in this Section and then decide whethe ...