Rocker gear - dismantling and reassembly
Dismantling 1 With the rocker assembly removed as described in Section 4, extract the split pin from one end of the rocker shaft (see illustration).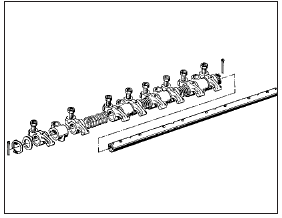 6.1 Rocker shaft assembly components
2 Take off the spring and plain washers from the end of the shaft.
3 Slide off the rocker arms, support pedestals and coil springs, keeping them in their originally fitted order. Clean out the oil holes in the shaft.
Reassembly
4 Apply engine oil to the rocker shaft before reassembling and make sure that the flat on the end of the shaft is to the same side as the rocker arm adjuster screws. This is essential for proper lubrication of the components.
See also:
Thermostat - removal and refitting
1 Disconnect the battery negative lead. 2 Drain the cooling system. 3 Proceed as follows according to model: SOHC models 4 Disconnect the radiator top hose and expansion tank hose from the thermo ...
Brakes
Your service brakes are self-adjusting. Refer to the scheduled maintenance guide for scheduled maintenance. Occasional brake noise is normal and often does not indicate a performance concern with ...
Major operations requiring engine removal
The following work can only be carried out after removal of the engine from the car: a) Crankshaft main bearings - renewal . b) Crankshaft - removal and refitting. c) Flywheel - removal and refitt ...