Throttle cable - adjustment, removal and refitting
Adjustment 1 Disconnect the battery earth lead.
2 On manual transmission models remove the air cleaner unit, as given in Section 2.
3 Get an assistant to sit in the driving seat and fully depress the accelerator pedal, then whilst it is depressed turn the cable adjuster at the carburettor or throttle cable mounting bracket connection to the point at which the linkage is just fully open.
4 Release the accelerator pedal then fully depress and release it again and check that when depressed the throttle is fully opened.
Readjust if necessary.
5 On completion refit the air cleaner and reconnect the battery earth lead.
Removal
6 Disconnect the battery earth lead.
7 Working within the vehicle, remove the facia lower insulation panel.
8 Disconnect the cable from the upper end of the accelerator pedal arm. Do this by sliding off the spring clip to release the cable end from the ball-stud (see illustration).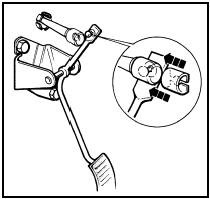 7.8 Throttle cable attachment at pedal end
9 Working under the bonnet, release the cable from the bulkhead.
10 Remove the air cleaner (manual transmission models only).
11 The cable must now be detached from its bracket on the carburettor or, on automatic transmission models, from the throttle cable mounting bracket on the right-hand side of the engine. Prise out the clip then depress the four lugs on the retainer simultaneously so that the retainer can be slid out of its bracket.
Take care not to damage the outer cable. On 1.1 and 1.3 litre HCS engine models, pull the securing clip from the support assembly, and release the cable from the bracket (see illustrations).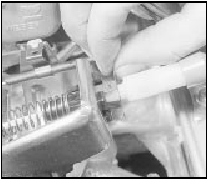 7.11a Prise out the throttle cable retaining clip . . .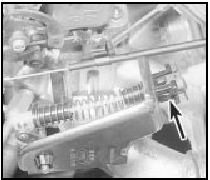 7.11b . . . then release the cable retainer (arrowed)

7.11c Throttle cable support bracket on 1.3 litre HCS engine
A Securing bolt B Securing clip
12 Disconnect the end of the cable from the ball-stud by sliding back the spring retaining clip (see illustration).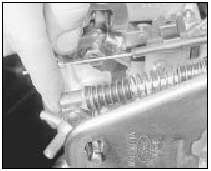 7.12 Release the cable end fitting spring retaining clip
Refitting 13 Fit the new cable by reversing the removal procedure, then adjust as described previously in this Section.
See also:
Taking kinetic design to the next level
The no-compromise approach to the new Ford Focus is immediately evident from the striking exterior design of the four-door sedan and five-door hatchback models that take center stage at the 2010 N ...
Using voice control
System operation The order and content of the voice controls are given in the following lists. The tables show the sequence of user voice commands and system responses for each available function ...
Fixed code programming
Note: Do not program the Car2U system with the vehicle in the garage. Make sure that your key is on and engine off while programming the transmitter. 1. To program units with fixed code DIP swi ...