Ford VV carburettor - removal and refitting
Note: Refer to the warning at the end of Section 1 before proceeding. A new gasket must be used on refitting.
Removal
1 Disconnect the battery negative lead.
2 Remove the air cleaner (Section 2).
3 On automatic choke carburettors, if the engine is still hot, depressurise the cooling system by carefully releasing the pressure cap (see Chapter 1). Disconnect the coolant hoses from the automatic choke housing and clamp or plug them to prevent coolant loss.
4 Detach the anti-run-on valve lead at the carburettor end (see illustration).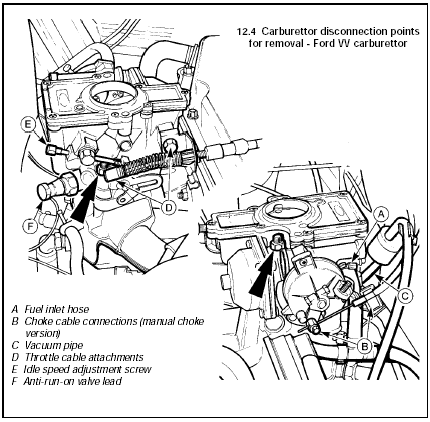 12.4 Carburettor disconnection points for removal - Ford VV carburettor
A Fuel inlet hose
B Choke cable connections (manual choke version)
C Vacuum pipe
D Throttle cable attachments E Idle speed adjustment screw F Anti-run-on valve lead
5 On manual choke models disconnect the choke cable from the lever and the outer cable from its clamp on the support bracket.
6 Disconnect the distributor vacuum pipe.
7 Disconnect the throttle cable by pulling the spring clip to release the end fitting from the ball-stud and then unscrewing the cable bracket fixing bolt.
8 Disconnect and plug the fuel inlet and, where fitted, the return hose from the carburettor. If crimped type hose clips are used, cut them off and fit screw type clips at reassembly.
9 Unscrew the two carburettor mounting flange nuts and lift the carburettor from the inlet manifold. Remove the idle speed screw if necessary for access to the nuts.
Refitting
10 Refitting is a reversal of removal, but make sure that a new flange gasket is used on perfectly clean mating surfaces.
11 On manual choke models readjust the choke cable on reconnection, as described in Section 9.
12 When reconnecting the vacuum pipe make sure that the fuel trap is correctly positioned.
13 When refitting the fuel inlet hose ensure that it is positioned in such a way that no part of the hose is closer than 11 mm (0.4 in) to the automatic choke coolant hoses. If this is not done fuel vaporisation can occur under certain conditions.
14 On automatic choke models recheck the coolant level.
15 On completion restart the engine and check the idle speed and mixture adjustments, as given in Chapter 1.
See also:
Rear wheel bearings - renewal
Saloon, Hatchback and Estate models With rear drum brakes Note: There are two types of bolts used to secure the rear hub carrier to the lower arm (see illustration). 14.1a Alternative types of ...
Rear suspension angles - general
The rear wheel toe and camber angles are set in production and do not require checking under normal service conditions. Of the two, only the toe setting can be adjusted, the camber angle being fix ...
Exhaust system - renewal
1 The layout of the exhaust system varies considerably according to model and engine. All except the RS Turbo versions can be renewed in sections; coupling sleeves are supplied, enabling an old se ...