Air cleaner - removal and refitting
K-Jetronic system Removal
1 Remove the air cleaner element as described in Chapter 1.
2 Detach the fuel filter from the side of the cleaner casing (leave the fuel lines attached to the filter) and the air inlet hose from the front end of the case.
3 Unscrew and remove the casing retaining nuts from the inner wing panel and lift out the casing.
Refitting
4 Refitting is the reversal of the removal procedure. Refit the air cleaner element as described in Chapter 1.
KE-Jetronic system
Removal
5 Undo the two bolts securing the air cleaner assembly to the air sensor plate unit and remove the air cleaner assembly (see illustration).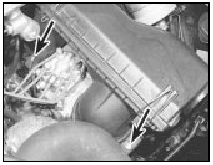 2.5 KE-Jetronic air cleaner retaining bolts (arrowed)
Refitting 6 Refit the unit to the air sensor plate and secure with the two bolts.
See also:
Diesel particulate filter (DPF)
The DPF forms part of the emissions reduction systems fitted to your vehicle. It filters harmful diesel particulates (soot) from the exhaust gas. Regeneration WARNING: Do not park or idle your v ...
Vehicle identification number (VIN)
The vehicle identification number is stamped into the floor panel on the right-hand side, beside the front seat. It is also shown on the left-hand side of the instrument panel. ...
Rear seat catch - removal and refitting
Saloon models 1 Working in the luggage compartment, release the seat catch by pulling the release knob, or if the cable is broken, use a screwdriver to release the catch itself. 2 Fold the backre ...