Air cleaner - removal and refitting
K-Jetronic system Removal
1 Remove the air cleaner element as described in Chapter 1.
2 Detach the fuel filter from the side of the cleaner casing (leave the fuel lines attached to the filter) and the air inlet hose from the front end of the case.
3 Unscrew and remove the casing retaining nuts from the inner wing panel and lift out the casing.
Refitting
4 Refitting is the reversal of the removal procedure. Refit the air cleaner element as described in Chapter 1.
KE-Jetronic system
Removal
5 Undo the two bolts securing the air cleaner assembly to the air sensor plate unit and remove the air cleaner assembly (see illustration).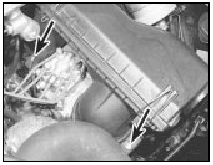 2.5 KE-Jetronic air cleaner retaining bolts (arrowed)
Refitting 6 Refit the unit to the air sensor plate and secure with the two bolts.
See also:
Engine - reassembly
Note: Ensure that all necessary new oil seals and gaskets have been obtained before starting the reassembly procedure. OHV engines 1 With everything clean, commence reassembly by oiling the bores ...
Spark plugs and HT leads - removal, inspection and refitting
Note: The correct functioning of the spark plugs is vital for the correct running and efficiency of the engine. It is essential that the plugs fitted are appropriate for the engine, and the suitabl ...
Front disc caliper - removal, overhaul and refitting
Caution: Refer to the precautions in Section 1. Removal 1 Apply the handbrake, loosen the relevant roadwheel nuts, then jack up the front of the vehicle and support on axle stands. (see "Jacking ...