Air cleaner - removal and refitting
K-Jetronic system Removal
1 Remove the air cleaner element as described in Chapter 1.
2 Detach the fuel filter from the side of the cleaner casing (leave the fuel lines attached to the filter) and the air inlet hose from the front end of the case.
3 Unscrew and remove the casing retaining nuts from the inner wing panel and lift out the casing.
Refitting
4 Refitting is the reversal of the removal procedure. Refit the air cleaner element as described in Chapter 1.
KE-Jetronic system
Removal
5 Undo the two bolts securing the air cleaner assembly to the air sensor plate unit and remove the air cleaner assembly (see illustration).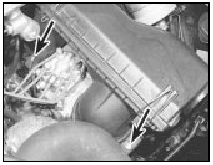 2.5 KE-Jetronic air cleaner retaining bolts (arrowed)
Refitting 6 Refit the unit to the air sensor plate and secure with the two bolts.
See also:
Electrical fault finding - general information
Note: Refer to the precautions given in "Safety first!" and in Section 1 of this Chapter before starting work. The following tests relate to testing of the main electrical circuits, and should not ...
Jump starting your vehicle
The gases around the battery can explode if exposed to flames, sparks, or lit cigarettes. An explosion could result in injury or vehicle damage. Batteries contain sulfuric acid which can burn ski ...
Front direction indicator side repeater lamp - removal and refitting
1 Disconnect the battery negative lead. Models up to 1987 2 To improve access, turn the steering onto full lock. 3 Remove the relevant wheel arch liner. 4 Working under the wheel arch, depress th ...