Warm-up regulator - removal and refitting
Note: Refer to the precautions at the end of Section 1 before proceeding. New banjo union sealing washers must be used on refitting.
Removal
1 The warm-up regulator is only used on KJetronic systems and is situated on the inlet manifold just to the rear of the rocker cover.
2 Disconnect the battery negative lead.
3 Relieve the system pressure by slowly loosening the fuel feed pipe union at the warm-up regulator (see illustration 6.3).
Absorb the fuel leakage in a cloth.
4 After relieving the system pressure disconnect the fuel feed union completely, followed by the outlet union. Recover the sealing washers used on each side of the unions.
5 Disconnect the regulator wiring multi-plug.
6 Undo the two Torx type screws using a suitable Torx key or socket bit and remove the regulator from its location (see illustration).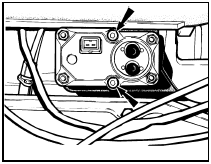 14.6 K-Jetronic system warm-up regulator retaining screws
Refitting 7 Refitting is a reversal of removal, but use new sealing washers on each side of the banjo unions and apply a thread-locking compound to the Torx retaining bolts. On completion check for leaks with the engine running.
See also:
Overview
The distinctive, all-new Ford Mondeo introduces new technical features to the Ford range and combines these with further improved driving dynamics and safety enhancements. With three distinctivel ...
Vehicle Overview
Introduced for 2001, the European-designed Focus quickly displaced the Escort as Ford's top-selling passenger car. It quickly ranked second in company sales behind the midsize Taurus. The front-wh ...
General information and precautions
General information The engine electrical system includes all charging, starting and ignition system components and the engine oil pressure sensor. Because of their engine-related functions, thes ...