Warm-up regulator - removal and refitting
Note: Refer to the precautions at the end of Section 1 before proceeding. New banjo union sealing washers must be used on refitting.
Removal
1 The warm-up regulator is only used on KJetronic systems and is situated on the inlet manifold just to the rear of the rocker cover.
2 Disconnect the battery negative lead.
3 Relieve the system pressure by slowly loosening the fuel feed pipe union at the warm-up regulator (see illustration 6.3).
Absorb the fuel leakage in a cloth.
4 After relieving the system pressure disconnect the fuel feed union completely, followed by the outlet union. Recover the sealing washers used on each side of the unions.
5 Disconnect the regulator wiring multi-plug.
6 Undo the two Torx type screws using a suitable Torx key or socket bit and remove the regulator from its location (see illustration).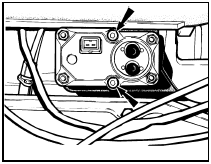 14.6 K-Jetronic system warm-up regulator retaining screws
Refitting 7 Refitting is a reversal of removal, but use new sealing washers on each side of the banjo unions and apply a thread-locking compound to the Torx retaining bolts. On completion check for leaks with the engine running.
See also:
Speedometer cable - removal and refitting
Removal 1 On models fitted with a trip computer, remove the speed sender unit. 2 Remove the instrument panel. 3 Pull the cable through the bulkhead into the engine compartment, and where applicab ...
Throttle Position Sensor (TPS) - removal and refitting
Removal 1 Disconnect the battery negative lead. 2 Unclip and disconnect the sensor wiring plug. 3 Remove the two securing screws, and withdraw the sensor from the throttle valve shaft (see illus ...
Intensive maintenance
If, from the time the vehicle is new, the routine maintenance schedule is followed closely and frequent checks are made of fluid levels and high wear items, as suggested throughout this manual, th ...