Warm-up regulator - removal and refitting
Note: Refer to the precautions at the end of Section 1 before proceeding. New banjo union sealing washers must be used on refitting.
Removal
1 The warm-up regulator is only used on KJetronic systems and is situated on the inlet manifold just to the rear of the rocker cover.
2 Disconnect the battery negative lead.
3 Relieve the system pressure by slowly loosening the fuel feed pipe union at the warm-up regulator (see illustration 6.3).
Absorb the fuel leakage in a cloth.
4 After relieving the system pressure disconnect the fuel feed union completely, followed by the outlet union. Recover the sealing washers used on each side of the unions.
5 Disconnect the regulator wiring multi-plug.
6 Undo the two Torx type screws using a suitable Torx key or socket bit and remove the regulator from its location (see illustration).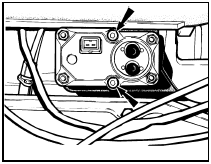 14.6 K-Jetronic system warm-up regulator retaining screws
Refitting 7 Refitting is a reversal of removal, but use new sealing washers on each side of the banjo unions and apply a thread-locking compound to the Torx retaining bolts. On completion check for leaks with the engine running.
See also:
Fluid leak check (Every 6000 miles (10 000 km) or 6 months)
1 Visually inspect the engine joint faces, gaskets and seals for any signs of water or oil leaks. Pay particular attention to the areas around the rocker cover, cylinder head, oil filter and sump ...
Locks and Security
KEYS The key operates all locks on your vehicle. In case of loss, replacement keys are available from your dealer. You should always carry a second key with you in a safe place in case you requi ...
Interior lamp bulbs - renewal
1 Disconnect the battery negative lead. Courtesy lamp 2 Remove the courtesy lamp. 3 Unclip the bulb from the lamp. On models fitted with an overhead console and map reading lamps, the courtesy la ...