Warm-up regulator - removal and refitting
Note: Refer to the precautions at the end of Section 1 before proceeding. New banjo union sealing washers must be used on refitting.
Removal
1 The warm-up regulator is only used on KJetronic systems and is situated on the inlet manifold just to the rear of the rocker cover.
2 Disconnect the battery negative lead.
3 Relieve the system pressure by slowly loosening the fuel feed pipe union at the warm-up regulator (see illustration 6.3).
Absorb the fuel leakage in a cloth.
4 After relieving the system pressure disconnect the fuel feed union completely, followed by the outlet union. Recover the sealing washers used on each side of the unions.
5 Disconnect the regulator wiring multi-plug.
6 Undo the two Torx type screws using a suitable Torx key or socket bit and remove the regulator from its location (see illustration).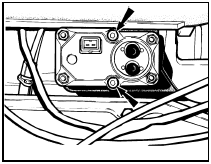 14.6 K-Jetronic system warm-up regulator retaining screws
Refitting 7 Refitting is a reversal of removal, but use new sealing washers on each side of the banjo unions and apply a thread-locking compound to the Torx retaining bolts. On completion check for leaks with the engine running.
See also:
Front brake disc pad check (Every 6000 miles or 6 months)
1 Place a mirror between the roadwheel and the caliper and check the thickness of the friction material of the disc pads (see illustration). If the material has worn down to the specified minimum ...
Tie-rod end - removal and refitting
Note: A balljoint separator tool will be required for this operation. Removal 1 Loosen the relevant front roadwheel nuts, apply the handbrake, jack up the front of the vehicle and support on axle ...
Heating and ventilation system - description
The heater is of the type which utilises waste heat from the engine coolant. The coolant is pumped through the matrix in the heater casing where air, force-fed by a duplex radial fan, disperses th ...