Waste gate solenoid control valve - removal and refitting
Removal
1 The solenoid control valve is mounted on a bracket located underneath the ignition distributor (see illustration).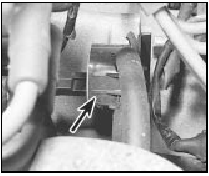 21.1 Waste gate solenoid control valve location (arrowed)
2 Disconnect the battery negative lead.
3 Disconnect the solenoid wiring multi-plug.
4 Identify and mark the hose locations at the solenoid connections, then remove the hoses.
5 Undo the retaining screws and remove the unit from its location.
Refitting
6 Refitting is a reversal of removal.
See also:
Fuel system - depressurising
Warning: The fuel system will remain pressurised after the engine is switched off. Comply with relevant safety precautions during this operation and refer to the "Safety First" Section at the beg ...
Auxiliary air device - removal and refitting
K-Jetronic system Removal 1 Disconnect the battery earth lead. 2 Disconnect the wiring multi-plug and the two air hoses from the device which is located beneath the cold start valve (see illustra ...
Front suspension lower arm (forged type) - removal, overhaul and refitting
1 The forged type suspension arm is fitted to all models except pre-May 1983 1.1 litre versions. Removal 2 Jack up the front of the car and support it on stands (see "Jacking and Vehicle Support" ...