Waste gate solenoid control valve - removal and refitting
Removal
1 The solenoid control valve is mounted on a bracket located underneath the ignition distributor (see illustration).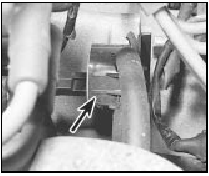 21.1 Waste gate solenoid control valve location (arrowed)
2 Disconnect the battery negative lead.
3 Disconnect the solenoid wiring multi-plug.
4 Identify and mark the hose locations at the solenoid connections, then remove the hoses.
5 Undo the retaining screws and remove the unit from its location.
Refitting
6 Refitting is a reversal of removal.
See also:
Changing the tires
If you get a flat tire while driving, do not apply the brake heavily. Instead, gradually decrease your speed. Hold the steering wheel firmly and slowly move to a safe place on the side of the road ...
Headlamps and auxiliary lamps - beam alignment
The headlamps are adjustable individually for both horizontal and vertical alignment from within the engine compartment. The auxiliary lamp adjustment is carried out by slackening the lamp mountin ...
Handbrake cable - adjustment
Note: Where fitted, the adjuster locking pin must be renewed on completion of adjustment. Conventional braking system (except P100 models) 1 The handbrake cable is normally self-adjusting in use ...