Waste gate solenoid control valve - removal and refitting
Removal
1 The solenoid control valve is mounted on a bracket located underneath the ignition distributor (see illustration).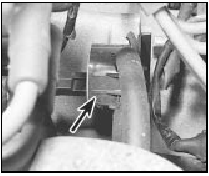 21.1 Waste gate solenoid control valve location (arrowed)
2 Disconnect the battery negative lead.
3 Disconnect the solenoid wiring multi-plug.
4 Identify and mark the hose locations at the solenoid connections, then remove the hoses.
5 Undo the retaining screws and remove the unit from its location.
Refitting
6 Refitting is a reversal of removal.
See also:
Rear suspension angles - general
The rear wheel toe and camber angles are set in production and do not require checking under normal service conditions. Of the two, only the toe setting can be adjusted, the camber angle being fix ...
General information and precautions
Contact breaker ignition system The ignition system is divided into two circuits, low tension (primary) and high tension (secondary). The low tension circuit consists of the battery, ignition swit ...
Engine/automatic transmission assembly - reconnection and refitting
1 Reverse the procedure described in Section 11, noting the following points. 2 Check that the engine adapter plate is correctly positioned on its locating dowels. 3 As the torque converter is onl ...