Intercooler - removal and refitting
1985 models Removal
1 Disconnect the battery negative lead.
2 Remove the air cleaner as described in Section 2.
3 Remove the intercooler upper and lower air hoses (see illustration).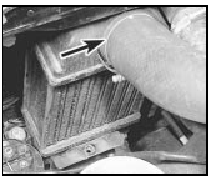 22.3 Intercooler upper air hose attachment (arrowed)
4 Undo the upper retaining bolt, tilt the intercooler towards the engine at the top and lift up to disengage the lower retaining pins.
Remove the unit from the engine compartment.
Refitting
5 Refitting is a reversal of removal.
1986 models onwards
Removal
6 Proceed as described in paragraphs 1 to 3.
7 Undo the two radiator and intercooler lower retaining bolts (see illustration).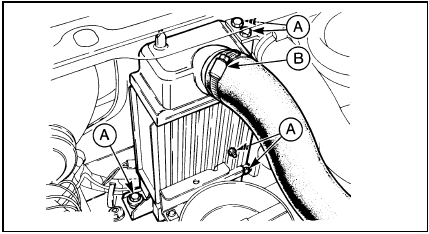 22.7 Intercooler mountings and attachments - 1986 models onwards
A Retaining bolts B Upper air hose
8 Move the radiator and intercooler assembly towards the engine and undo the four bolts securing the intercooler to the radiator.
9 Undo the retaining bolt and move the horn nearest to the intercooler to one side.
10 Withdraw the intercooler from the engine compartment.
Refitting
11 Refitting is a reversal of removal.
See also:
Principle of operation
WARNING: The parking aid does not relieve you of your responsibility to drive with due care and attention. CAUTIONS: Vehicles fitted with a trailer tow module not approved by us may not correct ...
Engine/transmission - reconnection and installation
1 This is a direct reversal of removal and separation from the transmission. Take care not to damage the radiator or front wings during installation. Reconnection 2 Make sure that the engine adap ...
Starting a petrol engine
Note: You can only operate the starter for a maximum of 30 seconds at a time. Cold or hot engine All vehicles CAUTION: When the temperature is below -20ºC (-4ºF), switch the ignition o ...