Heated Exhaust Gas Oxygen (HEGO) sensor - removal and refitting
Note: A new sealing ring will be required on refitting.
Removal
1 Apply the handbrake, then jack up the front of the vehicle and support it on axle stands (see "Jacking and Vehicle Support").
2 Disconnect the battery negative lead.
3 Unclip the wiring and disconnect the sensor wiring plug (see illustration).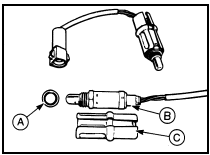 17.3 Heated exhaust gas oxygen (HEGO) sensor - 1.4 CFI engine
A Sealing ring
B HEGO sensor
C Sensor shield
4 Remove the sensor heat shield, then unscrew the sensor from the exhaust downpipe, and carefully remove it complete with sealing ring.
Warning: Do not touch the tip of the HEGO sensor.
Refitting
5 Refitting is a reversal of removal, bearing in mind the following points.
6 Clean the sensor threads, and take care not to touch the tip of the sensor during the refitting procedure.
7 Use a new sensor sealing ring.
8 Tighten the sensor to the specified torque.
9 On completion, start the engine and check for leaks between the sensor and the exhaust downpipe.
See also:
Engine compartment overview - 1.25L Duratec-16V (Sigma)/1.4L Duratec-16V (Sigma)
A. Engine coolant reservoir*: See Engine coolant check. B. Brake and clutch fluid reservoir (right-hand drive)*: See Brake and clutch fluid check. C. Engine oil filler cap*: See Engine oil check ...
Adjusting the steering wheel
WARNING: Never adjust the steering wheel when the vehicle is moving. Note: Make sure that you are sitting in the correct position. See Sitting in the correct position. WARNING: Make sure th ...
Switching off the engine
Vehicles with a turbocharger CAUTION: Do not switch the engine off when it is running at high speed. If you do, the turbocharger will continue running after the engine oil pressure has dropped t ...