Heated Exhaust Gas Oxygen (HEGO) sensor - removal and refitting
Note: A new sealing ring will be required on refitting.
Removal
1 Apply the handbrake, then jack up the front of the vehicle and support it on axle stands (see "Jacking and Vehicle Support").
2 Disconnect the battery negative lead.
3 Unclip the wiring and disconnect the sensor wiring plug (see illustration).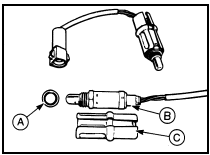 17.3 Heated exhaust gas oxygen (HEGO) sensor - 1.4 CFI engine
A Sealing ring
B HEGO sensor
C Sensor shield
4 Remove the sensor heat shield, then unscrew the sensor from the exhaust downpipe, and carefully remove it complete with sealing ring.
Warning: Do not touch the tip of the HEGO sensor.
Refitting
5 Refitting is a reversal of removal, bearing in mind the following points.
6 Clean the sensor threads, and take care not to touch the tip of the sensor during the refitting procedure.
7 Use a new sensor sealing ring.
8 Tighten the sensor to the specified torque.
9 On completion, start the engine and check for leaks between the sensor and the exhaust downpipe.
See also:
Sunroof - removal, refitting and adjustment
Glass panel - removal and refitting 1 Open the sunblind and remove the three screws and clips shown (see illustration) then slide the lower frame rearwards into the roof. 39.1 Sunroof lower fr ...
Fuses and relays - location and renewal
Location 1 The main fuses and relays are located in a box in the engine compartment on the righthand side of the bulkhead. The circuits protected are identified by symbols on the underside of the ...
Maintenance - component location
Underbonnet view of a 1983 2.0 litre SOHC carburettor model (air cleaner removed) 1 Brake fluid reservoir 2 Windscreen wiper motor 3 Battery 4 Ignition coil 5 Carburettor 6 Distributor 7 Fu ...