Heated Exhaust Gas Oxygen (HEGO) sensor - removal and refitting
Note: A new sealing ring will be required on refitting.
Removal
1 Apply the handbrake, then jack up the front of the vehicle and support it on axle stands (see "Jacking and Vehicle Support").
2 Disconnect the battery negative lead.
3 Unclip the wiring and disconnect the sensor wiring plug (see illustration).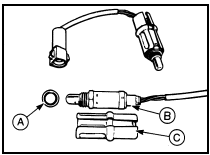 17.3 Heated exhaust gas oxygen (HEGO) sensor - 1.4 CFI engine
A Sealing ring
B HEGO sensor
C Sensor shield
4 Remove the sensor heat shield, then unscrew the sensor from the exhaust downpipe, and carefully remove it complete with sealing ring.
Warning: Do not touch the tip of the HEGO sensor.
Refitting
5 Refitting is a reversal of removal, bearing in mind the following points.
6 Clean the sensor threads, and take care not to touch the tip of the sensor during the refitting procedure.
7 Use a new sensor sealing ring.
8 Tighten the sensor to the specified torque.
9 On completion, start the engine and check for leaks between the sensor and the exhaust downpipe.
See also:
Sump - removal and refitting
Note: New gaskets and sealing strips will be required for refitting, and sealing compound will be required to coat the gasket faces. Removal 1 If the engine is in the vehicle, proceed as follows, ...
Power steering fluid hoses - removal and refitting
Note: New fluid hose O-rings will be required when refitting. Removal 1 Clean around the hose unions on the steering gear. Place a suitable container beneath the steering gear, then remove the s ...
Rear brake shoes - renewal
Warning: Brake shoes must be renewed on both rear wheels at the same time - never renew the shoes on only one wheel, as uneven braking may result. Also, the dust created by wear of the shoes may ...