Heated Exhaust Gas Oxygen (HEGO) sensor - removal and refitting
Note: A new sealing ring will be required on refitting.
Removal
1 Apply the handbrake, then jack up the front of the vehicle and support it on axle stands (see "Jacking and Vehicle Support").
2 Disconnect the battery negative lead.
3 Unclip the wiring and disconnect the sensor wiring plug (see illustration).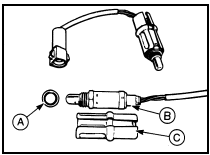 17.3 Heated exhaust gas oxygen (HEGO) sensor - 1.4 CFI engine
A Sealing ring
B HEGO sensor
C Sensor shield
4 Remove the sensor heat shield, then unscrew the sensor from the exhaust downpipe, and carefully remove it complete with sealing ring.
Warning: Do not touch the tip of the HEGO sensor.
Refitting
5 Refitting is a reversal of removal, bearing in mind the following points.
6 Clean the sensor threads, and take care not to touch the tip of the sensor during the refitting procedure.
7 Use a new sensor sealing ring.
8 Tighten the sensor to the specified torque.
9 On completion, start the engine and check for leaks between the sensor and the exhaust downpipe.
See also:
Rear anti-roll bar (Saloon and Estate models) - removal and refitting
Removal 1 Slacken the left-hand roadwheel bolts, raise and support the rear of the car on stands (see "Jacking and Vehicle Support"). Remove the roadwheel. 2 Lever the shackles from the right and ...
General description
The independent front suspension is of the MacPherson strut type, incorporating coil springs and integral telescopic shock absorbers. Lateral location of each strut assembly is by a forged or pres ...
Door window - removal and refitting
Front door 1 Remove the door inner trim panel. 2 Where necessary for access, peel back the waterproof plastic sheet from the door. 3 Remove the door mirror. 4 Remove the window channel extension ...