Heated Exhaust Gas Oxygen (HEGO) sensor - removal and refitting
Note: A new sealing ring will be required on refitting.
Removal
1 Apply the handbrake, then jack up the front of the vehicle and support it on axle stands (see "Jacking and Vehicle Support").
2 Disconnect the battery negative lead.
3 Unclip the wiring and disconnect the sensor wiring plug (see illustration).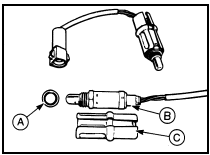 17.3 Heated exhaust gas oxygen (HEGO) sensor - 1.4 CFI engine
A Sealing ring
B HEGO sensor
C Sensor shield
4 Remove the sensor heat shield, then unscrew the sensor from the exhaust downpipe, and carefully remove it complete with sealing ring.
Warning: Do not touch the tip of the HEGO sensor.
Refitting
5 Refitting is a reversal of removal, bearing in mind the following points.
6 Clean the sensor threads, and take care not to touch the tip of the sensor during the refitting procedure.
7 Use a new sensor sealing ring.
8 Tighten the sensor to the specified torque.
9 On completion, start the engine and check for leaks between the sensor and the exhaust downpipe.
See also:
Cylinder block and bores - examination and renovation
1 The cylinder bores must be examined for taper, ovality, scoring and scratches. Start by examining the top of the bores; if these are worn, a slight ridge will be found which marks the top of the ...
Cleaning
WASHING THE EXTERIOR Wash your vehicle regularly with cool or lukewarm water and a neutral Ph shampoo, such as Motorcraft Detail Wash (ZC-3-A), which is available from your dealer. Never use st ...
Speed control (if equipped)
With speed control set, you can maintain a speed of 48 km/h (30 mph) or more without keeping your foot on the pedal. Speed control does not work at speeds below 48 km/h (30 mph). Do not use the spe ...