Heated Exhaust Gas Oxygen (HEGO) sensor - removal and refitting
Note: A new sealing ring will be required on refitting.
Removal
1 Apply the handbrake, then jack up the front of the vehicle and support it on axle stands (see "Jacking and Vehicle Support").
2 Disconnect the battery negative lead.
3 Unclip the wiring and disconnect the sensor wiring plug (see illustration).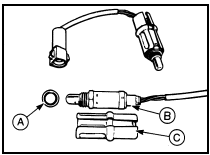 17.3 Heated exhaust gas oxygen (HEGO) sensor - 1.4 CFI engine
A Sealing ring
B HEGO sensor
C Sensor shield
4 Remove the sensor heat shield, then unscrew the sensor from the exhaust downpipe, and carefully remove it complete with sealing ring.
Warning: Do not touch the tip of the HEGO sensor.
Refitting
5 Refitting is a reversal of removal, bearing in mind the following points.
6 Clean the sensor threads, and take care not to touch the tip of the sensor during the refitting procedure.
7 Use a new sensor sealing ring.
8 Tighten the sensor to the specified torque.
9 On completion, start the engine and check for leaks between the sensor and the exhaust downpipe.
See also:
Using booster cables
CAUTIONS: Connect batteries with only the same nominal voltage. Always use booster cables with insulated clamps and adequate size cable. Do not disconnect the battery from the vehicle's electri ...
1998 SVT Contour
If you are lusting after an A4 2.8 or a 328i, but your spouse is flipping over their price tags, the SVT Contour may save your marriage. And let's be frank here - this is a car that's goin ...
Changing a bulb
WARNINGS: Switch the lights and the ignition off. Let the bulb cool down before removing it. CAUTIONS: Do not touch the glass of the bulb. Only fit bulbs of the correct specification. See Bulb ...