Fuel cut-off (inertia) switch - removal and refitting
Removal
1 The fuel cut-off switch is located in the luggage compartment, under the spare wheel (see illustration).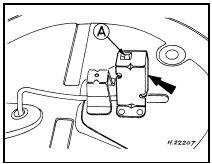 18.1 Fuel cut-off (inertia) switch location (arrowed) - 1.4 CFI engine
A Reset button
2 Disconnect the battery negative lead.
3 Remove the spare wheel and its cover to gain access to the switch.
4 Disconnect the switch wiring plug.
5 Remove the two screws securing the switch to its bracket, then withdraw the switch.
Refitting
6 Refitting is a reversal of removal, but before refitting the spare wheel, ensure that the switch is reset by pushing down the button on the top of the switch, and on completion start the engine and check that the switch operates correctly.
See also:
Autowipers
CAUTIONS: Do not switch autowipers on in dry weather conditions. The rain sensor is very sensitive and the wipers may operate if dirt, mist or flies hit the windscreen. Replace the wiper blades ...
Engine compartment overview - 1.8L Duratorq-TDCi (Lynx) Diesel
A. Brake and clutch fluid reservoir (right-hand drive). See Brake and clutch fluid check. B. Engine oil filler cap1. See Engine oil check. C. Brake and clutch fluid reservoir (left-hand drive). ...
Brake fluid renewal (Every 36 000 miles or 3 years)
Warning: Brake hydraulic fluid can harm your eyes and damage painted surfaces, so use extreme caution when handling and pouring it. Do not use fluid that has been standing open for some time, as ...