Fuel pressure regulator - removal and refitting
Note: Refer to the precautions at the end of Section 1 before proceeding. A new sealing ring will be required on refitting.
Removal
1 Disconnect the battery negative lead.
2 Depressurise the fuel system as described in Section 6.
3 Disconnect the fuel return hose from the regulator. Be prepared for fuel spillage and take adequate fire precautions (see illustration).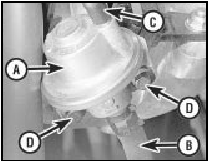 8.3 Fuel pressure regulator assembly - 1.6 EFI engine
A Regulator
B Fuel return hose
(to tank)
C Vacuum hose
D Securing bolts
4 Disconnect the vacuum hose from the regulator.
5 Unscrew the two securing bolts and withdraw the regulator from the fuel rail.
6 Recover the sealing ring.
Refitting
7 Refitting is a reversal of removal, but use a new sealing ring, and on completion, switch the ignition on and off five times without cranking the engine and check for fuel leaks.
See also:
Bonnet - removal and refitting
Removal 1 Support the bonnet in its open position, and place protective covers (old rags or cardboard) beneath the corners of the bonnet, and over the front wings to prevent damage to the paintwo ...
Disabling the passenger airbag
WARNING: Make sure that the passenger airbag is disabled when using a rearward facing child restraint on the front passenger seat. Fitting the passenger airbag deactivation switch WARNING: I ...
Air cleaner - removal and refitting
Removal 1 On CVH models, disconnect the battery negative lead. 2 Remove the screws from the top of the air cleaner cover (see illustration). 3.2 Air cleaner securing screws (arrowed) 3 Disconn ...