Fuel pressure regulator - removal and refitting
Note: Refer to the precautions at the end of Section 1 before proceeding. A new sealing ring will be required on refitting.
Removal
1 Disconnect the battery negative lead.
2 Depressurise the fuel system as described in Section 6.
3 Disconnect the fuel return hose from the regulator. Be prepared for fuel spillage and take adequate fire precautions (see illustration).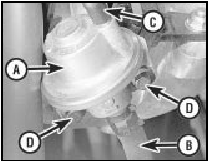 8.3 Fuel pressure regulator assembly - 1.6 EFI engine
A Regulator
B Fuel return hose
(to tank)
C Vacuum hose
D Securing bolts
4 Disconnect the vacuum hose from the regulator.
5 Unscrew the two securing bolts and withdraw the regulator from the fuel rail.
6 Recover the sealing ring.
Refitting
7 Refitting is a reversal of removal, but use a new sealing ring, and on completion, switch the ignition on and off five times without cranking the engine and check for fuel leaks.
See also:
Ford Sierra Service and Repair Manual
Introduction to the Ford Sierra The Ford Sierra was first introduced in late 1982 with the option of seven different engines and four different trim levels. This manual covers the four cylinder in- ...
Engine/automatic transmission assembly - reconnection and refitting
1 Reverse the procedure described in Section 11, noting the following points. 2 Check that the engine adapter plate is correctly positioned on its locating dowels. 3 As the torque converter is onl ...
Rear disc splash shield - removal and refitting
Note: A suitable puller will be required to remove the drive flange, and a new rear hub nut must be used on reassembly. Caution: Refer to the precautions in Section 1. Removal 1 Loosen the rear ...