Fuel pressure regulator - removal and refitting
Note: Refer to the precautions at the end of Section 1 before proceeding. A new sealing ring will be required on refitting.
Removal
1 Disconnect the battery negative lead.
2 Depressurise the fuel system as described in Section 6.
3 Disconnect the fuel return hose from the regulator. Be prepared for fuel spillage and take adequate fire precautions (see illustration).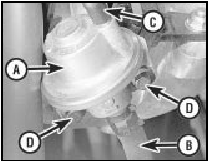 8.3 Fuel pressure regulator assembly - 1.6 EFI engine
A Regulator
B Fuel return hose
(to tank)
C Vacuum hose
D Securing bolts
4 Disconnect the vacuum hose from the regulator.
5 Unscrew the two securing bolts and withdraw the regulator from the fuel rail.
6 Recover the sealing ring.
Refitting
7 Refitting is a reversal of removal, but use a new sealing ring, and on completion, switch the ignition on and off five times without cranking the engine and check for fuel leaks.
See also:
Major operations requiring engine removal
The following work can only be carried out after removal of the engine from the car: a) Crankshaft main bearings - renewal . b) Crankshaft - removal and refitting. c) Flywheel - removal and refitt ...
Spark plugs and HT leads - removal, inspection and refitting
Note: The correct functioning of the spark plugs is vital for the correct running and efficiency of the engine. It is essential that the plugs fitted are appropriate for the engine, and the suitabl ...
Cargo area (P100 models) - removal and refitting
Note: A suitable lifting crane and tackle will be required for this operation. Removal 1 Disconnect the battery negative lead. 2 Remove the fuel filler cap, then drain the fuel tank. 3 Remove th ...