Fuel pressure regulator - removal and refitting
Note: Refer to the precautions at the end of Section 1 before proceeding. A new sealing ring will be required on refitting.
Removal
1 Disconnect the battery negative lead.
2 Depressurise the fuel system as described in Section 6.
3 Disconnect the fuel return hose from the regulator. Be prepared for fuel spillage and take adequate fire precautions (see illustration).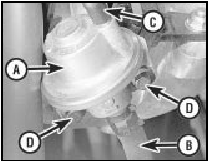 8.3 Fuel pressure regulator assembly - 1.6 EFI engine
A Regulator
B Fuel return hose
(to tank)
C Vacuum hose
D Securing bolts
4 Disconnect the vacuum hose from the regulator.
5 Unscrew the two securing bolts and withdraw the regulator from the fuel rail.
6 Recover the sealing ring.
Refitting
7 Refitting is a reversal of removal, but use a new sealing ring, and on completion, switch the ignition on and off five times without cranking the engine and check for fuel leaks.
See also:
Easy Fuel Уno capФ fuel system
Your fuel tank is equipped with an Easy Fuel Уno capФ fuel filler system. This allows you to simply open the fuel filler door and insert the fuel filler nozzle into the fuel system. The Easy Fuel ...
Connecting an external device
WARNING: Make sure the external device is securely mounted within the vehicle, and that trailing connections do not obstruct any of the driving controls. External devices may be connected using ...
General information
WARNING: Do not operate the information display controls when the vehicle is moving. Note: The information display will remain on for several minutes after you switch off the ignition. Various ...