Fuel injectors - removal and refitting
Note: Refer to the precautions at the end of Section 1 before proceeding. New injector seals will be required on refitting.
Removal
1 Disconnect the battery negative lead.
2 Depressurise the fuel system as described in Section 6.
3 Remove the throttle housing as described in Section 9.
4 Disconnect the wiring plugs from the fuel injectors, air charge temperature sensor, and engine coolant temperature sensor.
5 Remove the two fuel injection wiring harness securing nuts, and position the wiring harness clear of the fuel rail (see illustration).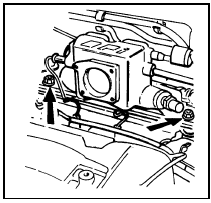 10.5 Fuel injection wiring harness securing nuts (arrowed) - 1.6 EFI engine
6 Disconnect the fuel supply hose from the fuel rail, and disconnect the fuel return hose and the vacuum hose from the pressure regulator.
7 Unscrew the two fuel rail securing bolts, and remove the fuel rail, complete with injectors.
8 To remove the injectors, simply pull them from the fuel rail. Recover the O-ring seals (see illustration).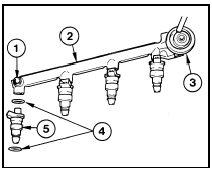 10.8 Fuel rail and injector assembly - 1.6 EFI engine
1 Fuel inlet
2 Fuel rail
3 Pressure regulator
4 Seals
5 Injector
Refitting 9 Refitting is a reversal of removal, but note that new seals must be fitted to all injectors even if only one injector has been renewed, and all the seals must be lubricated with clean engine oil before fitting to the injectors.
See also:
Voice control
To select or deselect voice control, press the button on the top. For further information See Voice control. ...
Audible warnings and indicators
Automatic transmission If position P is not selected, a warning chime will sound when the driver's door is opened. Frost WARNING: Even if the temperature rises to above +4ºC there is no gu ...
Changing the remote control battery
Make sure that you dispose of old batteries in an environmentally friendly way. Seek advice from your local authority regarding recycling. If the range of the transmitter in the key decreases ...