Air Charge Temperature (ACT) sensor - removal and refitting
Removal
1 The air charge temperature sensor is screwed into the inlet manifold (see illustration).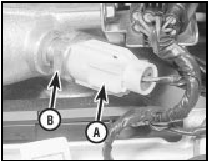 14.1 Air charge temperature sensor - 1.6 EFI engine
A Wiring plug B Sensor
2 Disconnect the battery negative lead.
3 Disconnect the sensor wiring plug. Do not pull on the wiring.
4 Unscrew the sensor from the inlet manifold.
Refitting
5 Refitting is a reversal of removal, but apply suitable sealer to the sensor threads.
See also:
Driveshaft check (Every 12 000 miles or 12 months)
1 Carry out a thorough inspection of the driveshafts and joints as follows. 2 Jack up the front of the car and support it securely on axle stands (see "Jacking and Vehicle Support"). 3 Slowly rot ...
Engine - reassembly
Note: Ensure that all necessary new oil seals and gaskets have been obtained before starting the reassembly procedure. OHV engines 1 With everything clean, commence reassembly by oiling the bores ...
Throttle cable - adjustment, removal and refitting
Adjustment The procedure is the same as described in Part A of this Chapter for carburettor engines, except that the cable adjuster is situated in a bracket alongside the throttle housing. Remova ...