Fuel evaporative emission control system components (Central Fuel Injection/CFI engines) - removal and refitting
Carbon canister Removal
1 The carbon canister is located behind the bumper, under the front right-hand wheelarch (see illustration).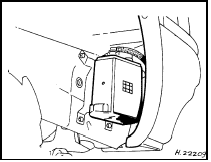 5.1 Carbon canister location (wheelarch liner removed) - CFI engine
2 Disconnect the battery negative lead.
3 Remove the wheelarch liner.
4 Disconnect the pipe from the carbon canister.
5 Remove the screw securing the canister to the mounting bracket, and withdraw the canister.
Refitting
6 Refitting is a reversal of removal.
Carbon canister purge solenoid Removal
7 The solenoid is located near the bulkhead on the right-hand side of the engine compartment (see illustration).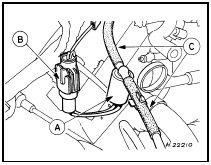 5.7 Carbon canister purge solenoid location - CFI engine
A Canister purge
solenoid
B Wiring plug
C Hose
8 Disconnect the battery negative lead.
9 Disconnect the solenoid wiring plug.
10 Disconnect both hoses from the solenoid, noting their locations, then withdraw the solenoid from the vehicle.
Refitting
11 Refitting is a reversal of removal.
See also:
Washer nozzles - removal and refitting
Windscreen and rear window washers 1 To remove a nozzle, carefully prise it from its location using a thin-bladed screwdriver. Disconnect the washer hose and withdraw the nozzle. 2 To refit, rec ...
Engine dismantling, examination, renovation and reassembly - general information
Dismantling 1 Refer to Chapter 2, Part A, Section 18, paragraphs 1 to 8 inclusive. 2 A suitable selection of splined and Torx sockets will be required to remove many of the bolts when dismantling ...
Trailer towing
Your vehicle is capable of towing a trailer up to 454 kg (1,000 lbs.) gross trailer weight with a maximum tongue load of 45 kg (100 lbs.). Do not tow a trailer until your vehicle has been driven at ...