Fuel evaporative emission control system components (Central Fuel Injection/CFI engines) - removal and refitting
Carbon canister Removal
1 The carbon canister is located behind the bumper, under the front right-hand wheelarch (see illustration).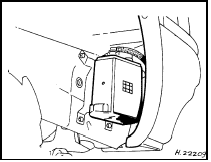 5.1 Carbon canister location (wheelarch liner removed) - CFI engine
2 Disconnect the battery negative lead.
3 Remove the wheelarch liner.
4 Disconnect the pipe from the carbon canister.
5 Remove the screw securing the canister to the mounting bracket, and withdraw the canister.
Refitting
6 Refitting is a reversal of removal.
Carbon canister purge solenoid Removal
7 The solenoid is located near the bulkhead on the right-hand side of the engine compartment (see illustration).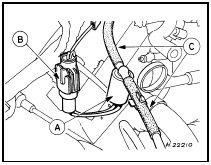 5.7 Carbon canister purge solenoid location - CFI engine
A Canister purge
solenoid
B Wiring plug
C Hose
8 Disconnect the battery negative lead.
9 Disconnect the solenoid wiring plug.
10 Disconnect both hoses from the solenoid, noting their locations, then withdraw the solenoid from the vehicle.
Refitting
11 Refitting is a reversal of removal.
See also:
Trip computer
Outside air temperature A Trip computer B Odometer C Trip computer Press the button to scroll through the displays. To reset the trip and average speed, scroll to the required display and p ...
Engine oil and filter - renewal
Refer to Section 2, Chapter 2, Part A. ...
Lamp assembly condensation
Exterior lamps are vented to accommodate normal changes in pressure. Condensation can be a natural by-product of this design. When moist air enters the lamp assembly through the vents, there is a ...