Fuel evaporative emission control system components (Central Fuel Injection/CFI engines) - removal and refitting
Carbon canister Removal
1 The carbon canister is located behind the bumper, under the front right-hand wheelarch (see illustration).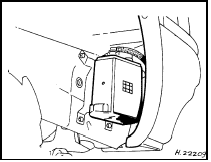 5.1 Carbon canister location (wheelarch liner removed) - CFI engine
2 Disconnect the battery negative lead.
3 Remove the wheelarch liner.
4 Disconnect the pipe from the carbon canister.
5 Remove the screw securing the canister to the mounting bracket, and withdraw the canister.
Refitting
6 Refitting is a reversal of removal.
Carbon canister purge solenoid Removal
7 The solenoid is located near the bulkhead on the right-hand side of the engine compartment (see illustration).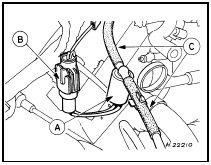 5.7 Carbon canister purge solenoid location - CFI engine
A Canister purge
solenoid
B Wiring plug
C Hose
8 Disconnect the battery negative lead.
9 Disconnect the solenoid wiring plug.
10 Disconnect both hoses from the solenoid, noting their locations, then withdraw the solenoid from the vehicle.
Refitting
11 Refitting is a reversal of removal.
See also:
Oil pump - removal and refitting
Note: A suitable puller will be required to remove the crankshaft pulley. A new crankshaft pulley bolt, a new lower timing chain cover gasket, and a new oil pump gasket, must be used on refitting. ...
Carburettors (all types) - dismantling and reassembly
1 A complete strip-down of a carburettor is unlikely to cure a fault which is not immediately obvious without introducing new problems. If persistent carburation problems are encountered, it is re ...
MyKey restricted features
Standard settings – these settings cannot be changed • The audio system will be muted whenever Belt-Minder is activated until the safety belts are buckled. Refer to the Seating and Safety Restraint ...