Alternator - removal and refitting
Note: Refer to the precautions at the end of Section 1 before proceeding.
Removal
1 The operations are similar for all makes of alternator.
2 Disconnect the battery negative terminal, then disconnect the multiplug or leads from the rear of the alternator.
3 On certain CVH engine models it may be necessary to remove the air cleaner hose, and disconnect the radiator bottom hose to give sufficient clearance to enable removal of the alternator, in which case the cooling system must be drained with reference to Chapter 1.
4 Release the mounting and adjuster link bolts, push the alternator in towards the engine and remove the drivebelt (see illustration). It may be necessary to remove the adjuster link-to-alternator bolt to facilitate removal of the drivebelt.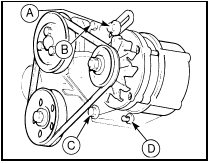 5.4 Alternator mounting and adjuster link bolts
A Adjuster link-to-alternator bolt B Adjuster link-to-engine bolt C and D Alternator mounting bolts
5 Undo and remove the mounting nuts and bolts and adjuster link bolt, if not already removed, and withdraw the alternator from the engine.
Refitting
6 Refitting is the reverse sequence to removal, bearing in mind the following points.
a) Ensure that the mounting bolts and washers are assembled as shown (see illustrations).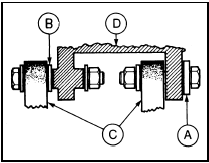 5.6a Correct fitting of alternator mounting components - early models
A Large washer
B Small washer (pre-1985 CVH engines only) C Mounting bracket
D Alternator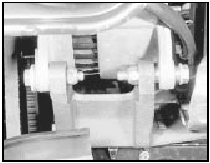 5.6b Alternator mounting bolt arrangement - later models
b) Adjust the drivebelt tension as described in Chapter 1.
c) On completion, where applicable, refill the cooling system as described in Chapter 1.
See also:
Engine coolant change record
Engine coolant change log ...
ISOFIX anchor points
ISOFIX anchor points You can fit ISOFIX child restraints using the ISOFIX anchor points. Your vehicle is fitted with ISOFIX anchor points that accommodate universally approved ISOFIX child rest ...
Maintenance - upholstery and carpets
Mats and carpets should be brushed or vacuum cleaned regularly to keep them free of grit. If they are badly stained remove them from the vehicle for scrubbing or sponging and make quite sure they ...