Alternator - removal and refitting
Note: Refer to the precautions at the end of Section 1 before proceeding.
Removal
1 The operations are similar for all makes of alternator.
2 Disconnect the battery negative terminal, then disconnect the multiplug or leads from the rear of the alternator.
3 On certain CVH engine models it may be necessary to remove the air cleaner hose, and disconnect the radiator bottom hose to give sufficient clearance to enable removal of the alternator, in which case the cooling system must be drained with reference to Chapter 1.
4 Release the mounting and adjuster link bolts, push the alternator in towards the engine and remove the drivebelt (see illustration). It may be necessary to remove the adjuster link-to-alternator bolt to facilitate removal of the drivebelt.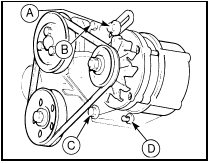 5.4 Alternator mounting and adjuster link bolts
A Adjuster link-to-alternator bolt B Adjuster link-to-engine bolt C and D Alternator mounting bolts
5 Undo and remove the mounting nuts and bolts and adjuster link bolt, if not already removed, and withdraw the alternator from the engine.
Refitting
6 Refitting is the reverse sequence to removal, bearing in mind the following points.
a) Ensure that the mounting bolts and washers are assembled as shown (see illustrations).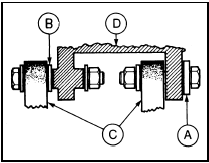 5.6a Correct fitting of alternator mounting components - early models
A Large washer
B Small washer (pre-1985 CVH engines only) C Mounting bracket
D Alternator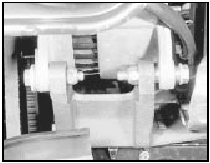 5.6b Alternator mounting bolt arrangement - later models
b) Adjust the drivebelt tension as described in Chapter 1.
c) On completion, where applicable, refill the cooling system as described in Chapter 1.
See also:
Vehicle Identification Numbers
Modifications are a continuing and unpublicised process in vehicle manufacture, quite apart from major model changes. Spare parts manuals and lists are compiled upon a numerical basis, the individ ...
Rear roadspring (Saloon and Estate models) - removal and refitting
Removal 1 Raise the rear of the car and support it on stands (see "Jacking and Vehicle Support"). Remove the roadwheel. 2 Support the suspension lower arm by placing a jack beneath the spring sea ...
Heater matrix - removal and refitting
Removal 1 With the heater removed from the vehicle as previously described, extract the two securing screws and slide the matrix out of the heater casing. 2 If further dismantling is necessary, c ...