Starter motor - removal and refitting
Removal
1 Disconnect the battery.
2 Working from under the vehicle, disconnect the main starter motor cable and the two wires from the starter solenoid (see illustration).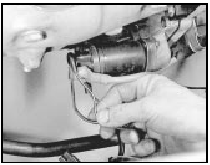 8.2 Disconnecting the wiring from the starter motor solenoid
3 Unbolt the starter motor and withdraw it from its location.
Refitting
4 Refit by reversing the removal operations.
See also:
OHV and HCS engines
The 1.1 litre and 1.3 litre OHV engines are of four-cylinder, in-line overhead valve type (hence OHV), mounted transversely together with the transmission, at the front of the car. The crankshaft ...
Front suspension strut - removal, overhaul and refitting
Removal 1 Slacken the roadwheel bolts, raise the front of the vehicle and support it securely on stands (see "Jacking and Vehicle Support"), then remove the roadwheel. 2 Support the underside of ...
Sunroof - removal, refitting and adjustment
Glass panel - removal and refitting 1 Open the sunblind and remove the three screws and clips shown (see illustration) then slide the lower frame rearwards into the roof. 39.1 Sunroof lower fr ...