Starter motor - removal and refitting
Removal
1 Disconnect the battery.
2 Working from under the vehicle, disconnect the main starter motor cable and the two wires from the starter solenoid (see illustration).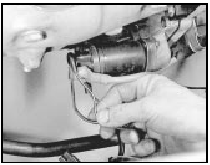 8.2 Disconnecting the wiring from the starter motor solenoid
3 Unbolt the starter motor and withdraw it from its location.
Refitting
4 Refit by reversing the removal operations.
See also:
Oil seals - renewal
Camshaft oil seal Note: Thread locking compound will be required to coat the camshaft sprocket bolt on refitting. 1 Disconnect the battery negative lead. 2 Release the timing belt from the camsha ...
Heater matrix - removal and refitting
Removal 1 With the heater removed from the vehicle as previously described, extract the two securing screws and slide the matrix out of the heater casing. 2 If further dismantling is necessary, c ...
Rear wheel cylinder - removal, overhaul and refitting
Note: Before starting work, refer to the warning at the beginning of Section 2 concerning the dangers of asbestos dust, and to the warning at the beginning of Section 3 concerning the dangers of h ...