Starter motor - removal and refitting
Removal
1 Disconnect the battery.
2 Working from under the vehicle, disconnect the main starter motor cable and the two wires from the starter solenoid (see illustration).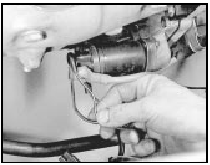 8.2 Disconnecting the wiring from the starter motor solenoid
3 Unbolt the starter motor and withdraw it from its location.
Refitting
4 Refit by reversing the removal operations.
See also:
Engine dismantling, examination, renovation and reassembly - general information
1.8 litre (R2A type) Dismantling 1 It is best to mount the engine on a dismantling stand, but if this is not available, stand the engine on a strong bench at a comfortable working height. Failing ...
Changing a fuse
WARNINGS: Do not modify the electrical system of your vehicle in any way. Have repairs to the electrical system and the replacement of relays and high current fuses carried out by properly traine ...
Electromagnetic compatibility
WARNINGS: Your vehicle has been tested and certified to European legislations relating to electromagnetic compatibility (2004/104/EC). It is your responsibility to ensure that any equipment you ...