Starter motor - removal and refitting
Removal
1 Disconnect the battery.
2 Working from under the vehicle, disconnect the main starter motor cable and the two wires from the starter solenoid (see illustration).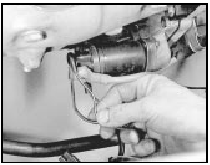 8.2 Disconnecting the wiring from the starter motor solenoid
3 Unbolt the starter motor and withdraw it from its location.
Refitting
4 Refit by reversing the removal operations.
See also:
Electrical fault finding - general information
Note: Refer to the precautions given in "Safety first!" and in Section 1 of this Chapter before starting work. The following tests relate to testing of the main electrical circuits, and should not ...
Cooling, heating and ventilation systems
The cooling system is of the pressurised pump-assisted thermo-syphon type. The system consists of the radiator, water pump, thermostat, electric cooling fan, expansion tank and associated hoses. ...
Central (single-point) Fuel Injection (CFI) system
The system is best described by dividing it into four separate sub-systems: air, fuel, engine management (EEC IV system), and ignition. ...