Starter motor - removal and refitting
Removal
1 Disconnect the battery.
2 Working from under the vehicle, disconnect the main starter motor cable and the two wires from the starter solenoid (see illustration).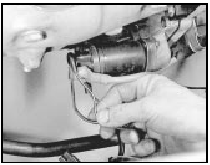 8.2 Disconnecting the wiring from the starter motor solenoid
3 Unbolt the starter motor and withdraw it from its location.
Refitting
4 Refit by reversing the removal operations.
See also:
Power steering fluid check
WARNING: Do not allow the fluid to touch your skin or eyes. If this happens, rinse the affected areas immediately with plenty of water and contact your doctor. CAUTION: Make sure that the level ...
Driving on hilly or sloping terrain
Although natural obstacles may make it necessary to travel diagonally up or down a hill or steep incline, you should always try to drive straight up or straight down. Avoid driving crosswise or turn ...
Bumper components - removal and refitting
Bumper overriders Removal 1 On pre-1986 models the overrider is held to the bumper by a clamp screw. Find this screw on the underside of the bumper and release it - the overrider can then be with ...