General description
The independent front suspension is of the MacPherson strut type, incorporating coil springs and integral telescopic shock absorbers. Lateral location of each strut assembly is by a forged or pressed steel lower suspension arm containing rubber inner mounting bushes and incorporating a balljoint at their outer ends. On pre-May 1983 1.1 litre models, fore and aft location of the pressed steel lower suspension arms is by a tie-bar.
On post-May 1983 1.1 litre models and all other variants the forged steel lower arms are interconnected by an anti-roll bar which also provides fore and aft location of both suspension arms. Additional location is provided by an adjustable tie-bar on 1985 RS Turbo models. The hub carriers which contain the hub bearings, brake calipers and the hub/disc assemblies are bolted to the MacPherson struts and connected to the lower arms via the balljoints (see illustration).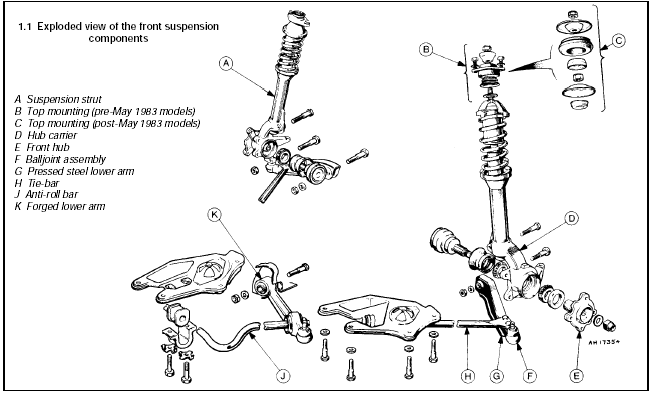 1.1 Exploded view of the front suspension components
A Suspension strut
B Top mounting (pre-May 1983 models) C Top mounting (post-May 1983 models) D Hub carrier
E Front hub
F Balljoint assembly
G Pressed steel lower arm H Tie-bar
J Anti-roll bar
K Forged lower arm
On Saloon and Estate models the rear suspension is also fully independent by means of pressed steel lower suspension arms, coil springs and separate telescopic shock absorbers. The suspension arms are attached to the underbody at their inner ends through rubber bushes and to the stub axle carrier at their outer ends, again through rubber bushes. The shock absorbers are bolted to the stub axle carriers at their lower ends which also carry the rear brake backplate as well as the rear hub/drum assemblies. Fore and aft location of the lower arms is by a tie-bar and an anti-roll bar is also fitted to models with fuel-injection (see illustration).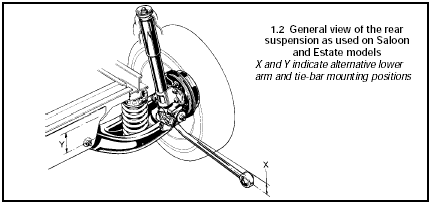 1.2 General view of the rear suspension as used on Saloon and Estate models
X and Y indicate alternative lower arm and tie-bar mounting positions
The rear suspension on Van variants consists of a transverse beam axle located and supported by a single leaf spring on each side, and utilising telescopic shock absorbers to control vertical movement. A stub axle is welded to each end of the axle and these carry the rear brake backplates and the hub/drum assemblies (see illustration).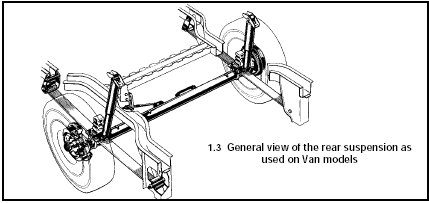 1.3 General view of the rear suspension as used on Van models
The steering gear is of the conventional rack and pinion type located behind the front wheels. Movement of the steering wheel is transmitted to the steering gear by means of a steering shaft containing two universal joints.
The front wheels are connected to the steering gears by tie-rods each having an inner and outer balljoint.
See also:
Fuel tank - removal and refitting
The procedure is as described in Part A of this Chapter for carburettor engines. ...
Fuel quality - Diesel
Note: We recommend that you use only high quality fuel without additives or other engine treatments. WARNING: Do not mix diesel with oil, petrol or other liquids. This could cause a chemical rea ...
Information messages
Press OK to acknowledge and remove some messages from the information display. Other messages will be removed automatically after a short time. With instrument cluster type 3, certain messages ...