Bonnet release cable - removal and refitting
Removal
1 Working inside the vehicle, extract the three screws and remove the steering column shroud. Open the bonnet. If the cable is broken, the release latch must be operated using a suitably shaped bar through the grille aperture.
2 Extract the single screw and remove the cable bracket from the steering column.
3 Working within the engine compartment, pull the cable grommet from the bonnet latch bracket and then disengage the cable end fitting from the latch (see illustration).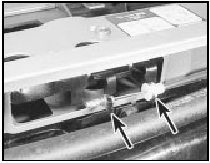 8.3 Bonnet cable attachment at latch and bracket (arrowed)
4 Unclip the cable from the side of the engine compartment.
5 Withdraw the cable through the engine compartment rear bulkhead into the vehicle interior.
Refitting
6 Refitting is a reversal of removal.
See also:
Genuine Ford parts and service
When planning your maintenance services, consider your dealership for all your vehicle's needs. There are a lot of reasons why visiting your dealership for all your service needs is a great way t ...
Changing a fuse
WARNINGS: Do not modify the electrical system of your vehicle in any way. Have repairs to the electrical system and the replacement of relays and high current fuses carried out by properly traine ...
Child safety locks
WARNING: You cannot open the doors from inside if you have put the child safety locks on. Child safety locks Lock A Unlock B ...