Bonnet release cable - removal and refitting
Removal
1 Working inside the vehicle, extract the three screws and remove the steering column shroud. Open the bonnet. If the cable is broken, the release latch must be operated using a suitably shaped bar through the grille aperture.
2 Extract the single screw and remove the cable bracket from the steering column.
3 Working within the engine compartment, pull the cable grommet from the bonnet latch bracket and then disengage the cable end fitting from the latch (see illustration).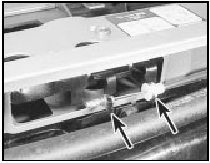 8.3 Bonnet cable attachment at latch and bracket (arrowed)
4 Unclip the cable from the side of the engine compartment.
5 Withdraw the cable through the engine compartment rear bulkhead into the vehicle interior.
Refitting
6 Refitting is a reversal of removal.
See also:
Bluetooth setup
Before you can use your telephone with your vehicle it must be bonded to the vehicle telephone system. Handling of phones Up to six Bluetooth devices can be bonded to the vehicle system. Note: I ...
General information
CAUTIONS: Use only approved wheel and tyre sizes. Using other sizes could damage the vehicle and will make the National Type Approval invalid. If you change the diameter of the tyres from that f ...
Disarming the engine immobiliser
The engine immobiliser is disarmed automatically when you switch the ignition on with a correctly coded key. The indicator in the instrument cluster will come on for approximately three seconds a ...