Tailgate - removal and refitting
Removal
1 Remove the trim panel (Section 32).
2 Disconnect the wiring from the heated rear window element, radio aerial, wiper motor tailgate speakers and tailgate lock motor as applicable (see illustration).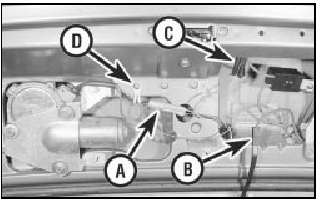 15.2 Electrical connections at the tailgate (1986 model shown)
A Wiper motor
B Radio aerial connection C Feed and relay connectors D Earthing point
3 Tie a strong cord to the end of each separate wiring loom. Pull out the flexible grommets and withdraw the wiring looms until the cords appear. Untie the looms, leaving the cords in the tailgate.
4 Repeat this procedure for the washer supply pipe.
5 With an assistant supporting the tailgate, prise off the stout clips or release the pegs and disconnect the support struts from the tailgate (see illustration).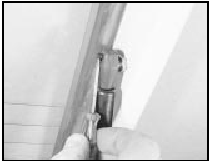 15.5 Releasing tailgate strut retaining clip
6 From the top edge of the tailgate aperture, remove the weatherstrip. Release the headlining clips from the flange.
7 Undo the screws and remove the pillar trim on each side, then pull the headlining down for access to the hinge bolts.
8 With the tailgate supported, undo the nuts from the hinge bolts and remove the tailgate.
Refitting
9 Refitting is a reversal of removal. Adjust the position of the tailgate in the aperture at the hinge bolts and the closing action at the striker plate.
See also:
Suspension and steering
The independent front suspension is of the MacPherson strut type, incorporating coil springs and integral telescopic shock absorbers. Lateral location of each strut assembly is by a forged or pres ...
Windscreen and fixed window glass - removal and refitting
Windscreen Note: The average DIY mechanic is advised to leave windscreen removal and refitting to an expert. For the owner who insists on doing it himself, the following paragraphs are given. Rem ...
Cigar lighter - removal and refitting
Removal 1 Disconnect the battery negative terminal. 2 On pre-1986 models remove the ashtray then undo the screws and withdraw the ashtray housing. On 1986 models onwards, refer to Section 21 and ...