Fuel computer components - removal and refitting
Computer unit Removal
1 Disconnect the battery negative terminal.
2 Undo the two instrument panel bezel retaining screws and ease the bezel out to release the lower clips.
3 Withdraw the computer module from the facia to the right of the instrument panel.
4 Disconnect the wiring multi-plug and remove the computer.
Refitting
5 Refitting is a reversal of removal.
Speed sender unit
Removal
6 Undo the retaining nut and detach the speedometer cable from the speed sender unit (see illustration).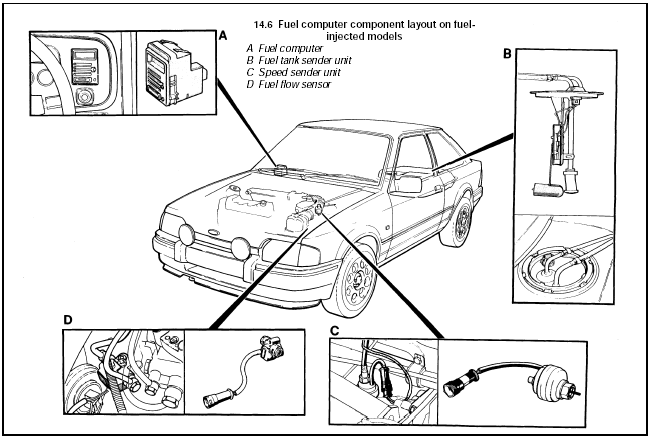 14.6 Fuel computer component layout on fuelinjected models
A Fuel computer
B Fuel tank sender unit
C Speed sender unit
D Fuel flow sensor
7 Unclip and disconnect the wiring multi-plug.
8 Undo the retaining nut and withdraw the speed sender unit from the transmission.
Refitting
9 Refitting is a reversal of removal.
Fuel flow sensor
Removal
10 The fuel flow sensor is used in conjunction with the fuel computer on fuel-injected models and is located on the fuel distributor at the front left-hand side of the engine compartment.
11 Disconnect the wiring multi-plug then undo the two banjo unions on the side of the unit. Note the position of the sealing washers.
12 Undo the two retaining screws and remove the fuel flow sensor.
Refitting
13 Refitting is the reverse sequence to removal. Ensure that the sealing washers are correctly fitted.
See also:
Quick start
Instrument panel overview Left-hand drive Right-hand drive A. Air vents. See Air vents. B. Multi-function lever: Direction indicators. See Direction indicators . Main beam. See Lighting cont ...
Power steering fluid check
Vehicles with 1.4L Duratec-16V (Sigma) or 1.6L Duratec-16V (Sigma) or 1.6L Duratec-16V Ti- VCT (Sigma) engine The fluid level should come up to the MAX mark when the engine is cold. If it drops b ...
Toll reader
Toll reader On vehicles with an anti-heat windscreen, toll readers should be placed in the area as shown (all measurements shown in millimetres), otherwise communication performance with toll s ...