Windscreen/tailgate wiper blades and arms - removal and refitting
Removal
1 Pull the wiper arm away from the glass until the arm locks.
2 Depress the small clip on the blade and slide the blade out of the hooked part of the arm (see illustration).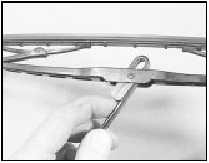 17.2 Disconnecting wiper blade from arm
3 Before removing the wiper arms it is worthwhile marking their parked position on the glass with a strip of masking tape as an aid to refitting. Raise the plastic nut cover.
4 Unscrew the nut which holds the arm to the pivot shaft and pull the arm from the splines.
Refitting
5 Refit by reversing the removal operations.
See also:
Weber 2V carburettor - adjustment
Idle speed and mixture adjustment 1 Refer to Chapter 1. Fast idle speed (XR3 models) 2 Remove the air cleaner as described in Section 2. 3 Have the engine at normal operating temperature, with ...
Radiator - inspection and cleaning
1 If the radiator has been removed because of suspected blockage, reverse-flush it. 2 Clean dirt and debris from the radiator fins using an air jet or water and a soft brush. Be careful not to dam ...
Driving through water
Driving through water CAUTIONS: Drive through water in an emergency only, and not as part of normal driving. Engine damage can occur if water enters the air filter. In an emergency, the vehicle ...