Maintenance - component location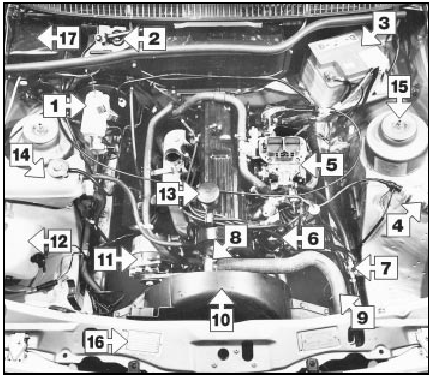 Underbonnet view of a 1983 2.0 litre SOHC carburettor model (air cleaner removed)

1 Brake fluid reservoir 2 Windscreen wiper motor 3 Battery
4 Ignition coil
5 Carburettor
6 Distributor
7 Fuel pressure regulator 8 Thermostat housing
9 Radiator top hose
10 Upper fan shroud
11 Alternator
12 Windscreen washer reservoir 13 Oil filler cap
14 Cooler expansion tank 15 Suspension strut top
16 VIN plate
17 Fusebox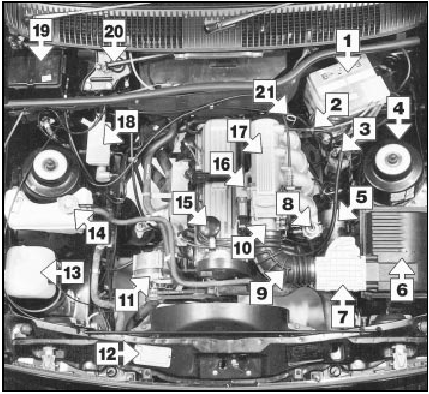 Underbonnet view of a 1985 2.0 litre SOHC fuel injection model
1 Battery
2 Brake servo non-return valve 3 Ignition coil
4 Suspension strut top
5 Fuel filter
6 Air cleaner
7 Airflow meter
8 Fuel pressure regulator 9 Air inlet hose
10 Throttle body
11 Alternator
12 VIN plate
13 Windscreen washer reservoir 14 Coolant expansion tank 15 Oil filler cap
16 Idle speed control valve 17 Inlet manifold
18 Brake fluid reservoir 19 Fusebox
20 Windscreen wiper motor 21 Engine oil level dipstick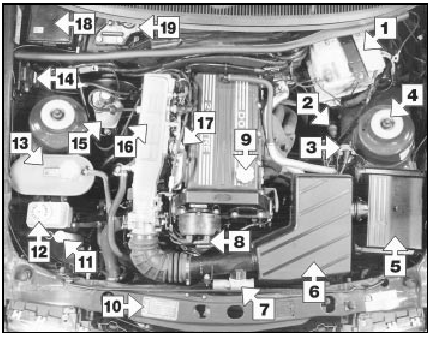 Underbonnet view of a 1990 2.0 litre DOHC fuel injection model
1 Battery
2 Braking system deceleration-sensitive valve 3 Ignition coil
4 Suspension strut top
5 Air cleaner
6 Plenum chamber
7 Idle speed control valve 8 Distributor
9 Oil filler cap
10 VIN plate
11 Windscreen washer reservoir filler neck 12 Power steering fluid reservoir 13 Coolant expansion tank 14 Manifold absolute pressure (MAP) sensor 15 Brake fluid reservoir 16 Inlet manifold
17 Fuel pressure regulator 18 Fusebox
19 Windscreen wiper motor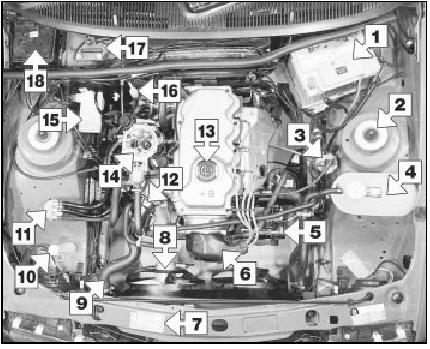 Underbonnet view of a 1989 1.8 litre (R2A) CVH model (air cleaner removed)
1 Battery
2 Suspension strut top
3 Ignition coil
4 Coolant expansion tank 5 Alternator
6 Distributor cap shroud 7 VIN plate
8 Electric cooling fan
9 Radiator top hose
10 Windscreen washer reservoir 11 Fuel vapour separator 12 Thermostat housing
13 Oil filler cap
14 Carburettor
15 Brake fluid reservoir 16 Engine oil level dipstick 17 Windscreen wiper motor 18 Fusebox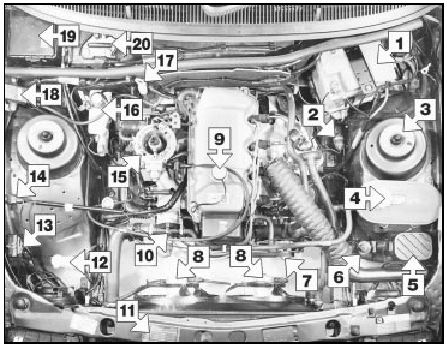 Underbonnet view of a 1992 1.6 litre CVH model (air cleaner removed)
1 Battery
2 Braking system deceleration-sensitive valve 3 Suspension strut top
4 Coolant expansion tank 5 Pulse-air filter
6 Vacuum-operated air valve 7 Alternator
8 Cooling fans
9 Oil filler cap
10 Thermostat housing
11 VIN plate
12 Windscreen washer reservoir filler neck 13 Ignition module
14 Pulse-air control solenoid 15 CFI unit
16 Brake fluid reservoir 17 Engine oil level dipstick 18 Manifold absolute pressure (MAP) Sensor 19 Fusebox
20 Windscreen wiper motor

Front underside view of a 1990 2.0 GLS model
1 Horns
2 Tie-rod end
3 Tie-rod
4 Gaiter
5 Coolant pump
6 Suspension lower arm
7 Anti-roll bar
8 Starter motor
9 Exhaust downpipes
10 Crossmember
11 Engine sump
12 Oil filter
13 Power steering fluid pump 14 Windscreen washer reservoir 15 Cooling fans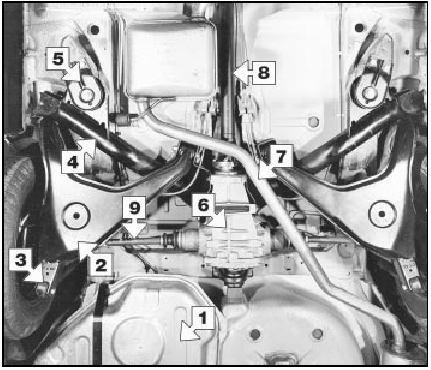 Rear underside view of a Hatchback models
1 Fuel tank
2 Suspension lower arm
3 Lower shock absorber mounting 4 Suspension crossmember 5 Suspension guide plate 6 Final drive unit
7 Exhaust system
8 Propeller shaft
9 Driveshaft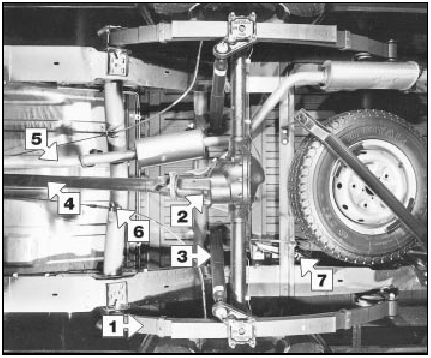 Rear underside view of a P100 model
1 Suspension leaf spring 2 Rear axle
3 Shock absorber
4 Propeller shaft
5 Exhaust system
6 Handbrake cable adjuster 7 Brake load apportioning valve
See also:
Electric window components - removal and refitting
1 Disconnect the battery negative lead. Switches 2 Prise the switch from its location using a thin-bladed screwdriver, and disconnect the wiring plug (see illustration). 49.2 Disconnecting the ...
Battery - testing and charging
Testing Standard and low maintenance battery 1 If the vehicle covers a small annual mileage it is worthwhile checking the specific gravity of the electrolyte every three months to determine the s ...
Exhaust system check (Every 12 000 miles or 12 months)
With the vehicle raised on a hoist or supported on axle stands (see "Jacking and Vehicle Support"), check the exhaust system for signs of leaks, corrosion or damage and check the rubber mountings ...