Crankcase ventilation system check (Every 12 000 miles (20 000 km) or 12 months)
1 Inspect the crankcase ventilation system for blockage or damage. A blocked hose can cause a build-up of crankcase pressure, which in turn can cause oil leaks (see illustration).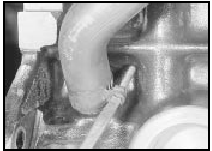 35.1 Loosening the crankcase ventilation hose clip - CVH models
2 On carburettor model SOHC engines, clean the oil filler cap with paraffin and check that the vent valve is not blocked by pulling it from the oil separator and loosening the hose clip (Section 42).
3 On CVH engines, check that the oil separator and mushroom valve are not blocked, and clean if necessary (see illustration).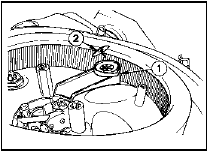 35.3 Oil separator (1) and mushroom valve (2) locations in air cleaner - CVH models
See also:
Charge air temperature sensor - removal and refitting
Removal 1 The charge air temperature sensor is only used on KE-Jetronic systems and is located in the air inlet duct (see illustration). 17.1 Charge air temperature sensor location (arrowed) 2 ...
Cylinder head - removal and refitting
Carburettor engines Removal Note: The cylinder head must only be removed when the engine is cold. New cylinder head bolts and a new gasket must be used on refitting. 1 Disconnect the battery ear ...
Engine - removal leaving manual gearbox in vehicle
Note: The air conditioning system should always be discharged by a Ford dealer or air conditioning specialist. Note: Refer to the warning in Section 8 before proceeding. A suitable hoist and lifti ...