Crankcase ventilation system check (Every 12 000 miles (20 000 km) or 12 months)
1 Inspect the crankcase ventilation system for blockage or damage. A blocked hose can cause a build-up of crankcase pressure, which in turn can cause oil leaks (see illustration).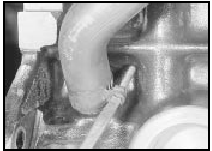 35.1 Loosening the crankcase ventilation hose clip - CVH models
2 On carburettor model SOHC engines, clean the oil filler cap with paraffin and check that the vent valve is not blocked by pulling it from the oil separator and loosening the hose clip (Section 42).
3 On CVH engines, check that the oil separator and mushroom valve are not blocked, and clean if necessary (see illustration).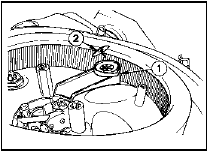 35.3 Oil separator (1) and mushroom valve (2) locations in air cleaner - CVH models
See also:
Air cleaner - removal and refitting
K-Jetronic system Removal 1 Remove the air cleaner element as described in Chapter 1. 2 Detach the fuel filter from the side of the cleaner casing (leave the fuel lines attached to the filter) a ...
Headlamps and auxiliary lamps - beam alignment
The headlamps are adjustable individually for both horizontal and vertical alignment from within the engine compartment. The auxiliary lamp adjustment is carried out by slackening the lamp mountin ...
Fuel tank - removal and refitting
The procedures are the same as described in Part A of this Chapter for carburettor engines, but in addition disconnect the fuel tank-to-fuel pump hose from the rear face of the tank. ...