Crankcase ventilation system check (Every 12 000 miles (20 000 km) or 12 months)
1 Inspect the crankcase ventilation system for blockage or damage. A blocked hose can cause a build-up of crankcase pressure, which in turn can cause oil leaks (see illustration).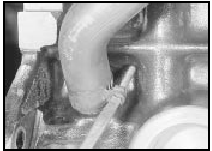 35.1 Loosening the crankcase ventilation hose clip - CVH models
2 On carburettor model SOHC engines, clean the oil filler cap with paraffin and check that the vent valve is not blocked by pulling it from the oil separator and loosening the hose clip (Section 42).
3 On CVH engines, check that the oil separator and mushroom valve are not blocked, and clean if necessary (see illustration).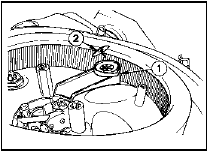 35.3 Oil separator (1) and mushroom valve (2) locations in air cleaner - CVH models
See also:
Rear wheel cylinder - removal, overhaul and refitting
Note: Before starting work, refer to the warning at the beginning of Section 2 concerning the dangers of asbestos dust, and to the warning at the beginning of Section 3 concerning the dangers of h ...
Fuel filler flap - removal and refitting
Removal 1 Open the filler flap and the tailgate or boot lid, as applicable. 2 Remove the fuel filler cap and then remove the screw securing the filler housing to the fuel tank neck (see illustrat ...
Seat belts - removal and refitting
Front seat belt stalk 1 Remove the front seat. 2 Detach the seat belt stalk from the seat by removing the two Torx screws. 3 Refitting is a reversal of removal. Front seat belt assembly 4 Where ...