Crankcase ventilation system check (Every 12 000 miles (20 000 km) or 12 months)
1 Inspect the crankcase ventilation system for blockage or damage. A blocked hose can cause a build-up of crankcase pressure, which in turn can cause oil leaks (see illustration).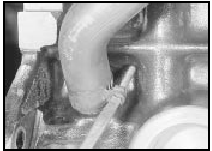 35.1 Loosening the crankcase ventilation hose clip - CVH models
2 On carburettor model SOHC engines, clean the oil filler cap with paraffin and check that the vent valve is not blocked by pulling it from the oil separator and loosening the hose clip (Section 42).
3 On CVH engines, check that the oil separator and mushroom valve are not blocked, and clean if necessary (see illustration).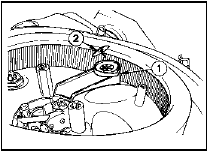 35.3 Oil separator (1) and mushroom valve (2) locations in air cleaner - CVH models
See also:
Throttle body - removal and refitting
Note: A tachometer and an exhaust gas analyser will be required to check the idle mixture on completion. A new gasket must be used when refitting the throttle body. 2.0 litre SOHC models 1 Discon ...
Radiator fan - removal and refitting
All models except RS Turbo Removal 1 Disconnect the battery negative terminal. 2 Disconnect the wiring plug at the fan motor and unclip the wiring from the shroud. 3 On pre-1986 models the fan sh ...
Major operations requiring engine removal
The following work can only be carried out after removal of the engine from the car: a) Crankshaft main bearings - renewal . b) Crankshaft - removal and refitting. c) Flywheel - removal and refitt ...