Air conditioner refridgerant charge check (Every 12 000 miles (20 000 km) or 12 months)
1 If applicable, remove the radiator grille being careful not to damage the condenser fins.
2 Check the refrigerant charge as follows.
The engine should be cold and the ambient temperature should be between 64° and 77°F (18° and 25°C).
3 Start the engine and allow it to idle.
Observe the refrigerant sight glass (see illustration)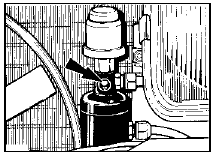 26.3 Air conditioning system refrigerant sight glass (arrowed)
and have an assistant switch on the air conditioning to fan speed III. A few bubbles should be seen in the sight glass as the system starts up, but all bubbles should disappear within 10 seconds. Persistent bubbles, or no bubbles at all, mean that the refrigerant charge is low. Switch off the system immediately if the charge is low and do not use it again until it has been recharged.
4 Inspect the refrigerant pipes, hoses and unions for security and good condition. Refit the radiator grille.
5 The air conditioning system will lose a proportion of its charge through normal seepage typically up to 100 g (4 oz) per year - so it is as well to regard periodic recharging as a maintenance operation.
See also:
Carburettor (Pierburg 2V type) - removal and refitting
1 Proceed as described for the Ford VV carburettor but note the following. 2 The Pierburg carburettor is not fitted with an anti-dieselling valve. 3 Disconnect all relevant wiring plugs and vacuu ...
Bodywork and fittings
The body is of welded steel construction available in 3 or 5-door Hatchback, 3 or 5- door Estate, soft-top Cabriolet, or Van configurations. The body is of monocoque construction and is of energy ...
OHV and HCS engines
The 1.1 litre and 1.3 litre OHV engines are of four-cylinder, in-line overhead valve type (hence OHV), mounted transversely together with the transmission, at the front of the car. The crankshaft ...