Coolant pump/alternator drivebelt tensioner (DOHC models with power steering) - removal and refitting
Removal
1 Remove the alternator drivebelt.
2 Loosen the alternator lower mounting through-bolt, then remove the alternator upper mounting bolt and swing the alternator away from the engine.
3 Unscrew the central securing bolt, and withdraw the drivebelt tensioner assembly (see illustration).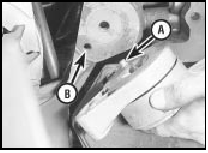 11.3 Withdrawing the coolant pump/alternator drivebelt tensioner assembly. Note lug (A) on tensioner which engages with hole (B) in mounting bracket
Refitting
4 Commence refitting by positioning the tensioner on the cylinder block, ensuring that the lug on the rear of the tensioner bracket engages with the corresponding hole in the cylinder block. Tighten the securing bolt.
5 Swing the alternator into position, to align the upper mounting bolt hole with the corresponding hole in the drivebelt tensioner assembly. Refit the upper mounting bolt, and tighten the upper bolt and lower through-bolt.
6 Fit the drivebelt by reversing the removal procedure, and release the tensioner to tension the drivebelt.
7 Observe the tensioner indicator, which should be central in its slot (see illustration).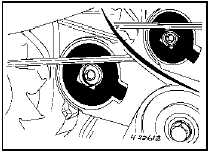 11.7 Alternator/coolant pump drivebelt tensioner indicator position Inset shows tensioner at maximum adjustment
See also:
Front wheel bearings - renewal
1 Remove the hub carrier. 2 Reverse the roadwheel nuts and screw them fully onto the studs to protect the threads, then mount the hub carrier assembly in a vice as shown (see illustration). 6.2 ...
Interior mirror - removal and refitting
Removal 1 The interior mirror is bonded to the windscreen glass. If it must be removed, grip the mirror firmly and push it forward to break the adhesive bond. 2 When refitting the mirror, the fol ...
Manual heating and air conditioning system (if equipped)
Fan speed control Controls the volume of air circulated in the vehicle. Temperature control knob Controls the temperature of the airflow inside the vehicle. Mode Selector Control Control ...