Coolant pump/alternator drivebelt tensioner (DOHC models with power steering) - removal and refitting
Removal
1 Remove the alternator drivebelt.
2 Loosen the alternator lower mounting through-bolt, then remove the alternator upper mounting bolt and swing the alternator away from the engine.
3 Unscrew the central securing bolt, and withdraw the drivebelt tensioner assembly (see illustration).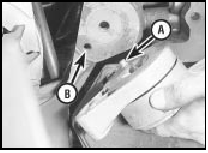 11.3 Withdrawing the coolant pump/alternator drivebelt tensioner assembly. Note lug (A) on tensioner which engages with hole (B) in mounting bracket
Refitting
4 Commence refitting by positioning the tensioner on the cylinder block, ensuring that the lug on the rear of the tensioner bracket engages with the corresponding hole in the cylinder block. Tighten the securing bolt.
5 Swing the alternator into position, to align the upper mounting bolt hole with the corresponding hole in the drivebelt tensioner assembly. Refit the upper mounting bolt, and tighten the upper bolt and lower through-bolt.
6 Fit the drivebelt by reversing the removal procedure, and release the tensioner to tension the drivebelt.
7 Observe the tensioner indicator, which should be central in its slot (see illustration).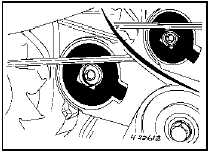 11.7 Alternator/coolant pump drivebelt tensioner indicator position Inset shows tensioner at maximum adjustment
See also:
Door lock - removal and refitting
Models up to 1990 1 Remove the door inner trim panel. 2 Where necessary for improved access, peel back the waterproof plastic sheet from the door. 3 Withdraw the window channel extension through ...
Cylinder head and pistons - decarbonising
OHV engines 1 With the cylinder head removed (Section 4), the carbon deposits should be removed from the combustion spaces using a scraper and a wire brush fitted into an electric drill. Take care ...
Cylinder head - removal and refitting (engine in vehicle)
Note: Refer to the warning at the beginning of Section 5 and the note at the beginning of the following Section before proceeding. The cylinder head must not be removed when the engine is warm. R ...