Heater unit - overhaul
1 With the heater unit removed from the vehicle, remove the two securing screws and withdraw the heater matrix from the casing (see illustrations).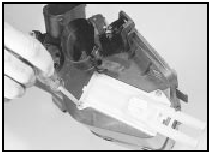 19.1a Remove the securing screws . . .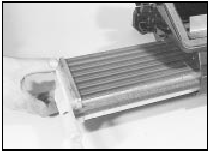 19.1b . . . and withdraw the heater matrix
2 Cut the heater casing gasket in line with the casing joint, then use two suitable screwdrivers to prise off the retaining clips and separate the casing halves. Withdraw the lower part of the casing to the side.
3 Remove the air flap valves, then press the control levers from the casing. Note that the "up/down" control lever can only be removed when the marks are aligned as shown (see illustration).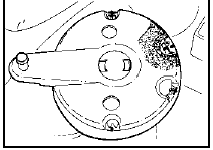 19.3 Heater "up/down" control lever must be aligned as shown before removal Note that the cross marks are for right-hand drive vehicles
4 Clean all components and hose through the matrix to remove any debris. If necessary use a chemical cleaner to clear the inner passage of the matrix. Renew the components as necessary.
5 Reassembly is a reversal of dismantling.
See also:
Idle speed compensator - removal and refitting
Removal 1 The idle speed compensator is only fitted to K-Jetronic systems from 1986 onwards and is located in the centre of the engine compartment bulkhead (see illustration). 19.1 K-Jetronic s ...
Throttle cable - adjustment, removal and refitting
Adjustment 1 Disconnect the battery earth lead. 2 On manual transmission models remove the air cleaner unit, as given in Section 2. 3 Get an assistant to sit in the driving seat and fully depress ...
Routine maintenance and servicing
Ford Sierra maintenance schedule The maintenance intervals in this manual are provided with the assumption that you will be carrying out the work yourself. These are the minimum maintenance interv ...