Heater unit - overhaul
1 With the heater unit removed from the vehicle, remove the two securing screws and withdraw the heater matrix from the casing (see illustrations).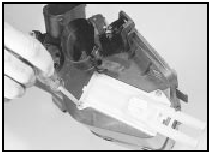 19.1a Remove the securing screws . . .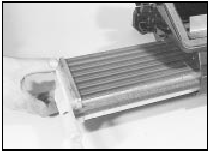 19.1b . . . and withdraw the heater matrix
2 Cut the heater casing gasket in line with the casing joint, then use two suitable screwdrivers to prise off the retaining clips and separate the casing halves. Withdraw the lower part of the casing to the side.
3 Remove the air flap valves, then press the control levers from the casing. Note that the "up/down" control lever can only be removed when the marks are aligned as shown (see illustration).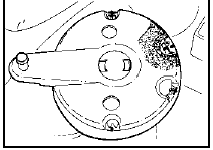 19.3 Heater "up/down" control lever must be aligned as shown before removal Note that the cross marks are for right-hand drive vehicles
4 Clean all components and hose through the matrix to remove any debris. If necessary use a chemical cleaner to clear the inner passage of the matrix. Renew the components as necessary.
5 Reassembly is a reversal of dismantling.
See also:
Cylinder head - removal and refitting (engine removed)
Note: Up to early 1984, splined type cylinder head bolts were used, and from early 1984, size T55 Torx bolts were used. Torx type bolts must always be renewed after slackening. The two types of bo ...
Exhaust manifold - removal and refitting
2.0 litre SOHC models 1 Refer to Chapter 4 Part A, Section 26, but note the following points. 2 Ignore the references to removal and refitting of the air cleaner and hot air pick-up pipe, and not ...
Door window - removal and refitting
Front door 1 Remove the door inner trim panel. 2 Where necessary for access, peel back the waterproof plastic sheet from the door. 3 Remove the door mirror. 4 Remove the window channel extension ...