Carburettor (Pierburg 2V type) - removal and refitting
1 Proceed as described for the Ford VV carburettor but note the following.
2 The Pierburg carburettor is not fitted with an anti-dieselling valve.
3 Disconnect all relevant wiring plugs and vacuum pipes, if necessary noting their locations as an aid to refitting.
4 Disconnect the throttle arm from the throttle lever by removing the retaining clip instead of disconnecting the cable (see illustration).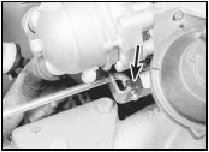 19.4 Throttle arm retaining clip (arrowed) - Pierburg 2V carburettor
5 The carburettor is secured to the inlet manifold by three Torx type screws (see illustration).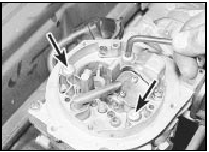 19.5 Removing the carburettor securing screws (arrowed) - Pierburg 2V carburettor
6 On CVH models an insulator block is fitted between the carburettor and the inlet manifold in place of a gasket. There is no need to renew the insulator block on refitting.
Carburettor (Pierburg 2V type) - idle speed and mixture adjustment
Refer to Chapter 1, Sections 15 and 16.
See also:
Throttle cable - adjustment, removal and refitting
Adjustment The procedure is the same as described in Part A of this Chapter for carburettor engines, except that the cable adjuster is situated in a bracket alongside the throttle housing. Remova ...
Oil pump - dismantling, inspection and reassembly
1.8 litre (R2A type) 1 If oil pump wear is suspected, check the cost and availability of new parts and the cost of a new pump. Examine the pump as described in this Section and then decide whethe ...
Crankshaft and bearings - examination and renovation
1.8 litre (R2A type) 1 Examine the bearing surfaces of the crankshaft for scratches or scoring and, using a micrometer, check each journal and crankpin for ovality. Where this is found to be in e ...