Carburettor (Pierburg 2V type) - removal and refitting
1 Proceed as described for the Ford VV carburettor but note the following.
2 The Pierburg carburettor is not fitted with an anti-dieselling valve.
3 Disconnect all relevant wiring plugs and vacuum pipes, if necessary noting their locations as an aid to refitting.
4 Disconnect the throttle arm from the throttle lever by removing the retaining clip instead of disconnecting the cable (see illustration).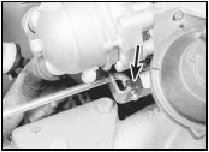 19.4 Throttle arm retaining clip (arrowed) - Pierburg 2V carburettor
5 The carburettor is secured to the inlet manifold by three Torx type screws (see illustration).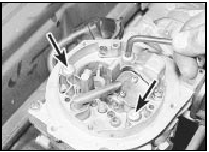 19.5 Removing the carburettor securing screws (arrowed) - Pierburg 2V carburettor
6 On CVH models an insulator block is fitted between the carburettor and the inlet manifold in place of a gasket. There is no need to renew the insulator block on refitting.
Carburettor (Pierburg 2V type) - idle speed and mixture adjustment
Refer to Chapter 1, Sections 15 and 16.
See also:
Examination and renovation
1 Clean all components using paraffin and a stiff brush, except the crankshaft, which should be wiped clean and the oil passages cleaned out with a length of wire. 2 Never assume that a component ...
Vehicle Identification Numbers
Modifications are a continuing and unpublicised process in vehicle manufacture, quite apart from major model changes. Spare parts manuals and lists are compiled upon a numerical basis, the individ ...
Cylinder head - inspection and renovation
Note: On engines fitted with hardened valve seats for use with unleaded petrol, valve and valve seat grinding and recutting cannot be carried out without the use of specialist equipment. Consult a ...