Airflow meter - removal and refitting
Note: A tachometer and an exhaust gas analyser will be required to check the idle mixture on completion.
1 Disconnect the battery negative lead.
2 Depress the locking clip on the airflow meter wiring plug and disconnect the plug.
Pull on the plug, not the wiring.
3 Loosen the securing clip and disconnect the air inlet hose from the airflow meter.
4 Release the four securing clips and lift off the air cleaner lid with the airflow meter.
5 Remove the four securing bolts and separate the airflow meter from the air cleaner lid (see illustration). Recover the seal.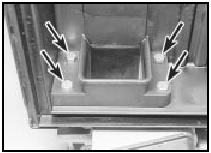 15.5 Airflow meter-to-air cleaner lid bolts (arrowed)
6 Refitting is a reversal of removal, ensuring that the seal is correctly located on the air cleaner lid, and that the air inlet hose clip is correctly aligned (see illustration).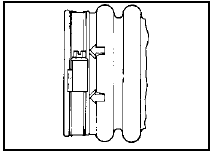 15.6 Air intake hose clip correctly aligned
7 On completion, check and if necessary adjust the idle mixture.
See also:
Valve block (ABS) - removal and refitting
Caution: Refer to the precautions in Section 1. Removal 1 Disconnect the battery negative lead. 2 Depressurise the hydraulic system by pumping the brake pedal at least 20 times, or until it beco ...
Heater unit - overhaul
1 With the heater unit removed from the vehicle, remove the two securing screws and withdraw the heater matrix from the casing (see illustrations). 19.1a Remove the securing screws . . . 19.1 ...
Getting roadside assistance
To fully assist you should you have a vehicle concern, Ford Motor Company offers a complimentary roadside assistance program. This program is separate from the New Vehicle Limited Warranty. The serv ...