Airflow meter - removal and refitting
Note: A tachometer and an exhaust gas analyser will be required to check the idle mixture on completion.
1 Disconnect the battery negative lead.
2 Depress the locking clip on the airflow meter wiring plug and disconnect the plug.
Pull on the plug, not the wiring.
3 Loosen the securing clip and disconnect the air inlet hose from the airflow meter.
4 Release the four securing clips and lift off the air cleaner lid with the airflow meter.
5 Remove the four securing bolts and separate the airflow meter from the air cleaner lid (see illustration). Recover the seal.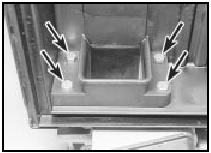 15.5 Airflow meter-to-air cleaner lid bolts (arrowed)
6 Refitting is a reversal of removal, ensuring that the seal is correctly located on the air cleaner lid, and that the air inlet hose clip is correctly aligned (see illustration).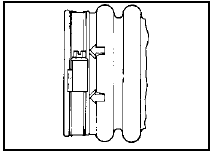 15.6 Air intake hose clip correctly aligned
7 On completion, check and if necessary adjust the idle mixture.
See also:
Tailgate/boot lid lock and cylinder - removal and refitting
Removal 1 Remove the trim panel as described in Section 32. 2 Extract the lock cylinder retaining clip, disconnect the control rods and remove the cylinder. 3 Undo the three screws and detach th ...
Cooling, heating and air conditioning systems
General information and precautions General information The cooling system is of pressurised type, and consists of a front mounted radiator, coolant pump, cooling fan, wax type thermostat, and an ...
Interior trim panels - removal and refitting
Rear quarter trim panel Removal 1 Unbolt the seat belt from its floor mounting. 2 Pass the belt buckle slide through the panel aperture. 3 Pull the seat cushion and backrest forward. 4 Extract t ...