Carbon canister-purge solenoid (models with catalytic converter) - removal and refitting
2.0 litre DOHC models 1 The purge solenoid is located next to the carbon canister, on the right-hand side of the engine compartment.
2 Disconnect the battery negative lead.
3 Disconnect the solenoid wiring plug halves by releasing the locktabs and pulling on the plug halves, not the wiring.
4 Note the locations of the two solenoid pipes, and the orientation of the solenoid, to assist with refitting.
5 Disconnect the two pipes from the solenoid, and withdraw the solenoid from its location.
6 Refitting is a reversal of removal. Ensure that the solenoid pipes are correctly reconnected, and that the solenoid is correctly orientated, as noted before removal.
1.6 and 1.8 litre (R6A type) CVH models
7 On 1.6 litre engines, the purge solenoid is located to the rear of the carbon canister, on the right-hand side of the engine compartment. On 1.8 litre engines, the location varies according to model and equipment, but can be traced by following the solenoid pipes back from the carbon canister (see illustration).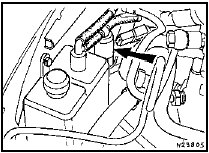 34.7 Carbon canister-purge solenoid location (arrowed) - 1.6/1.8 litre (R6A) CVH
8 Proceed as detailed in paragraphs 2 to 6 inclusive.
See also:
Wash/wipe system components - removal and refitting
Windscreen washer pump Engine compartment-mounted reservoir Removal 1 Drain the washer fluid container. 2 Disconnect the lead and washer pipe. 3 Ease the top of the washer pump away from the fl ...
Sunroof components - removal, refitting and adjustment
Sunroof panel Removal 1 To remove this type of glass panel, pull the sun blind into the open position and have the sliding roof closed. 2 Wind the sliding roof handle in an anticlockwise directi ...
Steering angles and wheel alignment
1 Accurate front wheel alignment is essential to good steering and for even tyre wear. Before considering the steering angles, check that the tyres are correctly inflated, that the roadwheels are ...