Carbon canister-purge solenoid (models with catalytic converter) - removal and refitting
2.0 litre DOHC models 1 The purge solenoid is located next to the carbon canister, on the right-hand side of the engine compartment.
2 Disconnect the battery negative lead.
3 Disconnect the solenoid wiring plug halves by releasing the locktabs and pulling on the plug halves, not the wiring.
4 Note the locations of the two solenoid pipes, and the orientation of the solenoid, to assist with refitting.
5 Disconnect the two pipes from the solenoid, and withdraw the solenoid from its location.
6 Refitting is a reversal of removal. Ensure that the solenoid pipes are correctly reconnected, and that the solenoid is correctly orientated, as noted before removal.
1.6 and 1.8 litre (R6A type) CVH models
7 On 1.6 litre engines, the purge solenoid is located to the rear of the carbon canister, on the right-hand side of the engine compartment. On 1.8 litre engines, the location varies according to model and equipment, but can be traced by following the solenoid pipes back from the carbon canister (see illustration).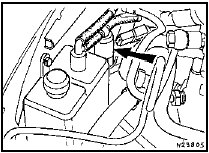 34.7 Carbon canister-purge solenoid location (arrowed) - 1.6/1.8 litre (R6A) CVH
8 Proceed as detailed in paragraphs 2 to 6 inclusive.
See also:
Alternator - testing
Note: To carry out the complete test procedure use only the following test equipment - a 0 to 20 volt moving coil voltmeter, a 0 to 100 amp moving coil ammeter, and a rheostat rated at 30 amps. 1 ...
Emission control system
Your vehicle is equipped with various emission control components and a catalytic converter which will enable your vehicle to comply with applicable exhaust emission standards. To make sure that the ...
Boot lid (Cabriolet models) - removal and refitting
Removal 1 Open the boot and prop it open using a length of wood. 2 Pull out the clips securing the gas strut and remove the strut. 3 Working inside the boot, undo the nuts securing the hinge ass ...