Brake fluid pipes and hoses - removal and refitting
Caution: Refer to the precautions in Section 1.
Removal
1 To remove a flexible hose, always free it from any mounting bracket(s) first by prising out the U-shaped retaining clip, and then using two close-fitting spanners to disconnect the hose-to-rigid pipe union (see illustration).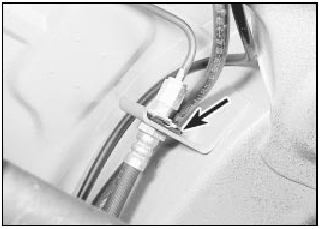 26.1 Flexible hose-to-rigid pipe union. U-shaped retaining clip arrowed
2 Once disconnected from the rigid pipe, the flexible hose may be unscrewed from the caliper or wheel cylinder union, as applicable.
Refitting
3 When reconnecting pipe or hose fittings, note that the seal is made at the swaged end of the pipe, so do not continue to tighten a union if it is tight, yet still stands proud of the surface into which it is screwed.
4 A flexible hose must never be installed twisted, but a slight "set" is permissible to give it clearance from adjacent components.
This can be achieved by turning the hose slightly before fitting the U-shaped retaining clip to the mounting bracket.
5 Rigid pipelines can be made to pattern by motor factors supplying brake components.
See also:
Speedometer cable - removal and refitting
Removal 1 Disconnect the battery and remove the instrument panel as described in Section 9. 2 Disconnect the cable from the transmission and release it from its clips and grommet. 3 Withdraw the ...
Alternator brushes and regulator - renewal
Bosch alternator 1 With the alternator removed from the engine, clean the external surfaces free from dirt. 2 Extract the brush box/regulator screws from the rear cover and withdraw the brush bo ...
Trailer towing
Your vehicle is capable of towing a trailer up to 454 kg (1,000 lbs.) gross trailer weight with a maximum tongue load of 45 kg (100 lbs.). Do not tow a trailer until your vehicle has been driven at ...