Brake fluid pipes and hoses - removal and refitting
Caution: Refer to the precautions in Section 1.
Removal
1 To remove a flexible hose, always free it from any mounting bracket(s) first by prising out the U-shaped retaining clip, and then using two close-fitting spanners to disconnect the hose-to-rigid pipe union (see illustration).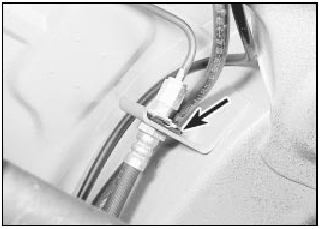 26.1 Flexible hose-to-rigid pipe union. U-shaped retaining clip arrowed
2 Once disconnected from the rigid pipe, the flexible hose may be unscrewed from the caliper or wheel cylinder union, as applicable.
Refitting
3 When reconnecting pipe or hose fittings, note that the seal is made at the swaged end of the pipe, so do not continue to tighten a union if it is tight, yet still stands proud of the surface into which it is screwed.
4 A flexible hose must never be installed twisted, but a slight "set" is permissible to give it clearance from adjacent components.
This can be achieved by turning the hose slightly before fitting the U-shaped retaining clip to the mounting bracket.
5 Rigid pipelines can be made to pattern by motor factors supplying brake components.
See also:
CVH engines
CVH (Compound Valve angle, Hemispherical combustion chambers) engines are of four cylinder in-line overhead camshaft type, mounted transversely, together with the transmission, at the front of the ...
Rear anti-roll bar (Saloon, Hatchback and Estate models) - removal and refitting
Removal 1 Loosen the rear roadwheel nuts, chock the front wheels, jack up the rear of the vehicle and support on axle stands placed under the side members. 2 Prise off the straps which connect th ...
Customer Assistance
FORD EXTENDED SERVICE PLAN You can get more protection for your new car or light truck by purchasing Ford Extended Service Plan (Ford ESP) coverage. Ford ESP is an optional service contract which i ...