Steering wheel - removal and refitting
Removal
1 Set the front wheels in the straight-ahead position.
2 Prise the trim insert from the centre of the steering wheel, and where applicable, disconnect the horn electrical lead(s) (see illustration).

22.2 Prise off the steering wheel trim insert and disconnect the horn electrical lead
3 Insert the ignition key and check that the steering lock is disengaged.
4 Unscrew the retaining nut and withdraw the steering wheel from the hexagon shaped inner column (see illustration). If the wheel is tight on the inner column, sit in the driver's seat and tap the wheel from behind with the palms of the hands (but screw the nut back on two or three turns for safety).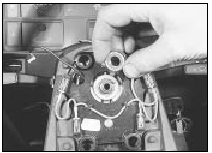 22.4 Removing the steering wheel retaining nut
Refitting
5 Refitting is a reversal of removal, but check that the lug on the direction indicator cam is aligned with the cut-out in the steering wheel, and make sure that the direction indicator switch is in the neutral position. Tighten the retaining nut to the specified torque.
See also:
Flywheel/driveplate - removal, inspection and refitting
Note: New flywheel securing bolts must be used on refitting. 1.8 litre (R2A type) 1 Refer to Section 26, Chapter 2, Part A but also note the following points. 2 The flywheel/driveplate securing b ...
Front suspension lower arm inner pivot bush - renewal
1 To improve access, raise the front of the vehicle on ramps. Apply the handbrake. 2 Unscrew and remove the nut, washer and pivot bolt securing the relevant lower arm to the crossmember. 3 Remove ...
Battery - testing and charging
Note: Refer to the precautions at the end of Section 1 before proceeding. Standard and low maintenance battery - testing 1 If the car covers a small annual mileage it is worthwhile checking the s ...