Steering wheel - removal and refitting
Removal
1 Set the front wheels in the straight-ahead position.
2 Prise the trim insert from the centre of the steering wheel, and where applicable, disconnect the horn electrical lead(s) (see illustration).

22.2 Prise off the steering wheel trim insert and disconnect the horn electrical lead
3 Insert the ignition key and check that the steering lock is disengaged.
4 Unscrew the retaining nut and withdraw the steering wheel from the hexagon shaped inner column (see illustration). If the wheel is tight on the inner column, sit in the driver's seat and tap the wheel from behind with the palms of the hands (but screw the nut back on two or three turns for safety).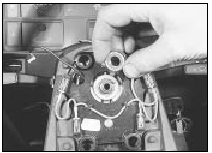 22.4 Removing the steering wheel retaining nut
Refitting
5 Refitting is a reversal of removal, but check that the lug on the direction indicator cam is aligned with the cut-out in the steering wheel, and make sure that the direction indicator switch is in the neutral position. Tighten the retaining nut to the specified torque.
See also:
Engine mountings - renewal
1 The engine mountings incorporate hydraulic dampers and must be renewed if excessive engine movement is evident. 2 Working in the engine compartment, unscrew the central nuts securing the engine ...
Transmission fluid
Checking automatic transmission fluid Refer to your scheduled maintenance guide for scheduled intervals for fluid checks and changes. Your transaxle does not consume fluid. However, the fluid lev ...
Bosch K-Jetronic and KE-Jetronic mechanical fuel injection systems
The fuel system comprises a centrally mounted fuel tank, electrically-operated fuel pump and Bosch K-Jetronic or KE-Jetronic continuous injection system according to model. The system is used in c ...