Steering wheel - removal and refitting
Removal
1 Set the front wheels in the straight-ahead position.
2 Prise the trim insert from the centre of the steering wheel, and where applicable, disconnect the horn electrical lead(s) (see illustration).

22.2 Prise off the steering wheel trim insert and disconnect the horn electrical lead
3 Insert the ignition key and check that the steering lock is disengaged.
4 Unscrew the retaining nut and withdraw the steering wheel from the hexagon shaped inner column (see illustration). If the wheel is tight on the inner column, sit in the driver's seat and tap the wheel from behind with the palms of the hands (but screw the nut back on two or three turns for safety).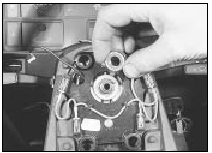 22.4 Removing the steering wheel retaining nut
Refitting
5 Refitting is a reversal of removal, but check that the lug on the direction indicator cam is aligned with the cut-out in the steering wheel, and make sure that the direction indicator switch is in the neutral position. Tighten the retaining nut to the specified torque.
See also:
Road test (Every 12 000 miles (20 000 km) or 12 months)
Instruments and electrical equipment 1 Check the operation of all instruments and electrical equipment. 2 Make sure that all instruments read correctly, and switch on all electrical equipment in ...
Bodywork and fittings
The body is of welded steel construction available in 3 or 5-door Hatchback, 3 or 5- door Estate, soft-top Cabriolet, or Van configurations. The body is of monocoque construction and is of energy ...
Distributor (OHC models) - removal and refitting
Note: During production the engine ignition timing is accurately set using a microwave process, and sealant is applied to the distributor clamp bolt. Removal of the distributor should be avoided e ...