Steering wheel - centralising
1 This operation is for correcting small errors in steering wheel centralisation - up to 60º.
For larger errors, remove the steering wheel and make a rough correction by repositioning the wheel on refitting.
2 Drive the vehicle in a straight line on a level surface. Note the angle by which the steering wheel deviates from the desired straight-ahead position.
3 Raise the front of the vehicle by driving it onto ramps, or with a jack and axle stands.
4 Slacken both tie-rod end locknuts. Also slacken the steering rack bellows outer clips.
5 Make alignment marks between each tie-rod end and its rod, so that the amount of rotation applied can be accurately determined see illustration).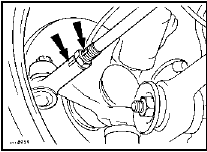 23.5 Make alignment marks (arrowed) between each tie-rod end and its rod when centralising the steering wheel
6 Turn both tie-rods in the same direction to correct the steering wheel position. As a rough guide, 19º of tie-rod rotation will change the steering wheel position by 1º. To correct a clockwise error at the steering wheel, rotate both tie-rods anti-clockwise (when viewed from the left-hand side of the vehicle), and the reverse to correct an anticlockwise error. Both tie-rods must be rotated by the same amount.
7 Tighten the bellows clips and the tie-rod end locknuts when adjustment is correct.
Lower the vehicle.
See also:
Brake fluid renewal (Every 36 000 miles or 3 years)
Warning: Brake hydraulic fluid can harm your eyes and damage painted surfaces, so use extreme caution when handling and pouring it. Do not use fluid that has been standing open for some time, as ...
Air cleaner - removal and refitting
The procedure is similar to that described in Part B of this Chapter for models with mechanical fuel injection. ...
Essentials of good fuel economy
Measuring techniques Your best source of information about actual fuel economy is you, the driver. You must gather information as accurately and consistently as possible. Fuel expense, frequency of ...