Steering wheel - centralising
1 This operation is for correcting small errors in steering wheel centralisation - up to 60º.
For larger errors, remove the steering wheel and make a rough correction by repositioning the wheel on refitting.
2 Drive the vehicle in a straight line on a level surface. Note the angle by which the steering wheel deviates from the desired straight-ahead position.
3 Raise the front of the vehicle by driving it onto ramps, or with a jack and axle stands.
4 Slacken both tie-rod end locknuts. Also slacken the steering rack bellows outer clips.
5 Make alignment marks between each tie-rod end and its rod, so that the amount of rotation applied can be accurately determined see illustration).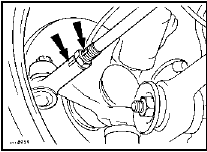 23.5 Make alignment marks (arrowed) between each tie-rod end and its rod when centralising the steering wheel
6 Turn both tie-rods in the same direction to correct the steering wheel position. As a rough guide, 19º of tie-rod rotation will change the steering wheel position by 1º. To correct a clockwise error at the steering wheel, rotate both tie-rods anti-clockwise (when viewed from the left-hand side of the vehicle), and the reverse to correct an anticlockwise error. Both tie-rods must be rotated by the same amount.
7 Tighten the bellows clips and the tie-rod end locknuts when adjustment is correct.
Lower the vehicle.
See also:
Minor body damage - repair
Repair of minor scratches in bodywork If the scratch is very superficial, and does not penetrate to the metal of the bodywork, repair is very simple. Lightly rub the area of the scratch with a pa ...
Rear hub bearings - adjustment
Note: A new hub nut split-pin must be used on refitting. 1 Raise and support the rear of the vehicle on stands. Release the handbrake. 2 This adjustment will normally only be required if, when th ...
Fluid leak check (Every 6000 miles or 6 months)
1 Visually inspect the engine joint faces, gaskets and seals for any signs of water or oil leaks. Pay particular attention to the areas around the rocker cover, cylinder head, oil filter and sump ...