Steering wheel - centralising
1 This operation is for correcting small errors in steering wheel centralisation - up to 60º.
For larger errors, remove the steering wheel and make a rough correction by repositioning the wheel on refitting.
2 Drive the vehicle in a straight line on a level surface. Note the angle by which the steering wheel deviates from the desired straight-ahead position.
3 Raise the front of the vehicle by driving it onto ramps, or with a jack and axle stands.
4 Slacken both tie-rod end locknuts. Also slacken the steering rack bellows outer clips.
5 Make alignment marks between each tie-rod end and its rod, so that the amount of rotation applied can be accurately determined see illustration).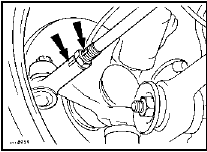 23.5 Make alignment marks (arrowed) between each tie-rod end and its rod when centralising the steering wheel
6 Turn both tie-rods in the same direction to correct the steering wheel position. As a rough guide, 19º of tie-rod rotation will change the steering wheel position by 1º. To correct a clockwise error at the steering wheel, rotate both tie-rods anti-clockwise (when viewed from the left-hand side of the vehicle), and the reverse to correct an anticlockwise error. Both tie-rods must be rotated by the same amount.
7 Tighten the bellows clips and the tie-rod end locknuts when adjustment is correct.
Lower the vehicle.
See also:
Headlining - removal and refitting
Saloon, Hatchback and Estate models 1 On Saloons, remove the rear seat back. 2 Loosen the upper screws of all the pillar trim panels touching the headlining. 3 Prise off the covers and remove the ...
Maintenance - upholstery and carpets
Mats and carpets should be brushed or vacuum cleaned regularly to keep them free of grit. If they are badly stained remove them from the vehicle for scrubbing or sponging and make quite sure they ...
Radio/cassette player - removal and refitting
Standard fixing 1 Disconnect the battery negative lead. 2 Pull off the two control knob assemblies. 3 Release the trim panel by unscrewing the two securing nuts from the control spindles. Remove ...